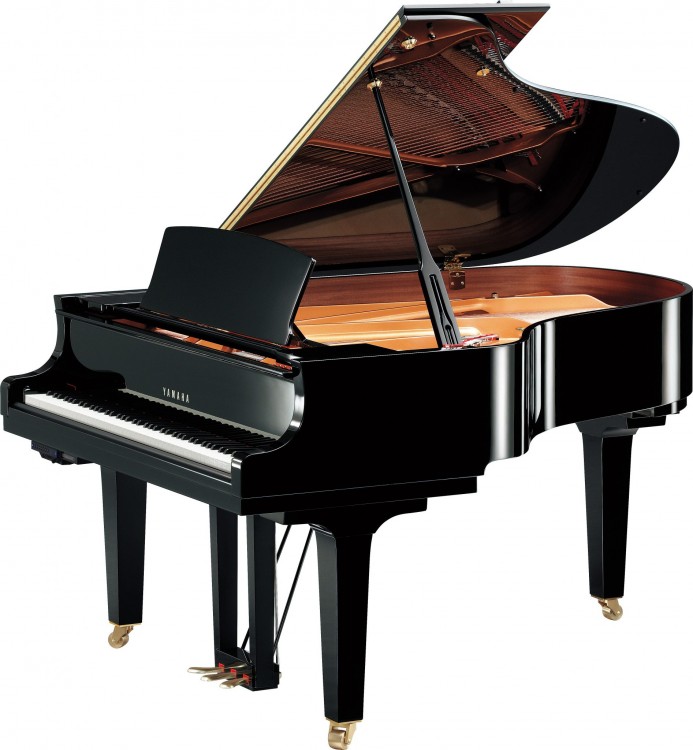 An acoustic piano with volume control, or a digital piano with strings? Yamaha's latest development stretches the imagination and opens up a whole new world of possibilities.
Model: C3XTA
Finish: Polished Ebony
Size: 6 Feet 1 Inch
Price: $64,999.00
Description:
There are times when the full sound of an acoustic piano may not be appreciated by your family or neighbors. For these situations, simply activate the TransAcoustic™ function and the hammers will no longer strike the strings. Non-contact sensors under each individual key detect your keystroke depth, velocity and timing and send this information to the tone generator. Just adjust the volume and hear the digital sound of your piano performance coming from the entire instrument.
Call for availability and more info..
Specs
Piano Specifications
Dimensions
Width
149 cm (59")
Height
101 cm (40")
Depth
186 cm (6'1")
Weight
Weight
341 kg (752 lb)
Keyboard
Number of Keys
88
Key Surfaces - White
Ivorite
Key Surfaces - Black
Wood composite
Keyboard Action
Made by Yamaha
Soundboard
Drive System
Mechanism: TransAcoustic™ technology
Pedal
Type
Damper / Sostenuto / Shift
Frame
Type
V-pro made by Yamaha
Caster
Type
Single
Lid
Prop Safety Stop
Yes
Key Cover
Lid/Fallboard Locks
Yes
Soft-Close Fallboard
Yes
TransAcoustic Specifications
Type
SH
Sensor System
Key Sensor
Non-contact continuous detection optical sensor
Hammer Sensor
Non-contact 2-point optical fiber sensor
Pedal Sensors
Damper Pedal: Continuous detection sensor, Sostenuto Pedal: ON/OFF detection sensor, Shift Pedal: ON/OFF detection sensor
Mechanism
Hammer shank stopper operated by motor drive
Action
Quick Escape mechanism
Digital Tone
Type
AWM Stereo Sampling
Sound Engine (Piano)
SILENT Piano™ mode: CFX Binaural Sampling TransAcoustic™ mode: CFX Stereo Sampling
Piano Effects
Damper Resonance, String Resonance, Sustain Sample, Key-Off Sample
Internal Tone
Polyphony (max)
256
Number of Voices
19 (16 voices + 3 dual voices)
Voice Selection (Playback)
480 XG voices + 12 Drum / SFX kits
Wave Memory
256 MB
Functions
Reverb
Room / Hall 1 / Hall 2 / Stage
Pitch Control
414.8 Hz to 466.8 Hz
Metronome
Yes
Preset Songs
53 (50 Greats for the Piano + 3 piano demonstrations)
MIDI Recording/Playback
Yes
USB Audio Recorder
Yes
Connectors
Headphones
Mini Stereo Jack x 2
MIDI IN/OUT
Yes
AUX IN/OUT
Mini Stereo Jack
Speaker Output
Phone Jack x 2
USB TO DEVICE
Yes
Power Supply
Power Consumption
44 W
Auto Power Off
Yes
Accessories
Headphones, Headphone hanger, Owner's manual, Music book "50 Greats for the Piano"