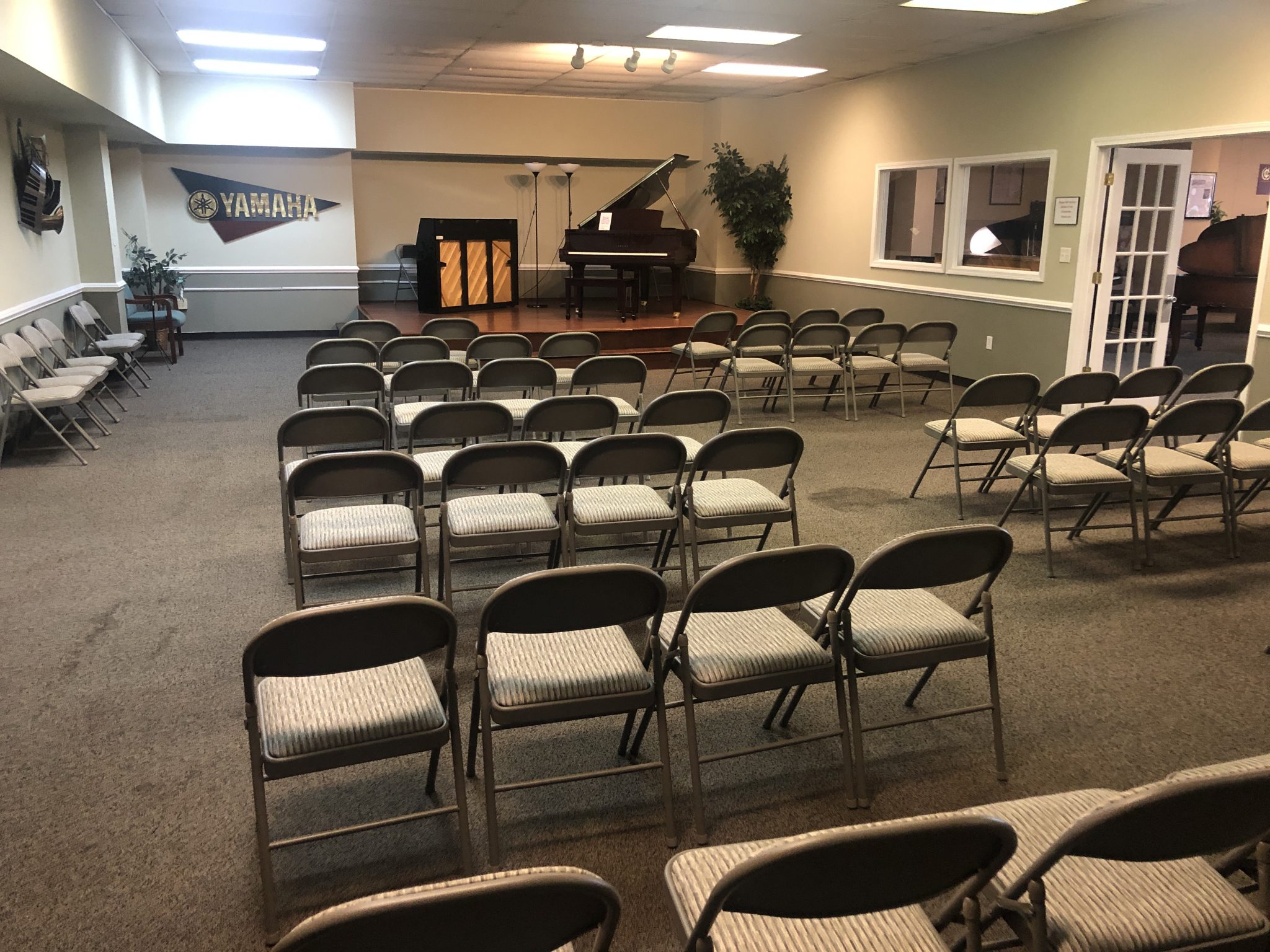 Marietta Recital Hall Is Now Open
Welcome Back!
Store hours are:
10:00 AM to 6:00 PM Monday through Saturday
1:00 PM to 5:00 PM on Sunday
Recitals must begin no sooner than 30 minutes or more after opening
Recitals must end 30 minutes or more before closing time.
How to Book your recital
We are closed on many national holidays. These are not shown on the Recital Hall Calendar. We are closed on Easter, Christmas, and New Years Days. Find an available date in the calendar (Navigate through months to view other months using the arrows after the {today} button)
Send an email to cmerritt@pianodistributors.com with:

Your 1 Selected date (must be available). Do not send a choice.
Your name
Phone number
Number of students playing
Total number attending (Capacity is 80 people. Please continue to socially distance and we suggest if you have not had the Vaccines, wearing a mask.)
Store hours are 10:00 AM to 6:00 PM Monday-Saturday and Sunday is 1:00 PM to 5:00 PM. The recital must be during these hours leaving 30 minutes to open and close the store on time.
Verify that this is a free event for your students and not a paid event.
Your email implies that you agree to the terms of use (see below the calendar)
Terms of the Recital Hall
The Recital Hall is now open to local piano teachers to use at no charge on a first come first serve basis. From this point forward Piano Distributors of Marietta will only book one recital per day and up to one year in advance. We only require that you leave the room as you found it and respect the store hours. There is a mid sized grand on stage. The maximum capacity of the room is 80 people. We have a small table that can be used if needed. We do not supply music stands, microphones, or amplifiers etc. Please understand that the room is set "as it is" and will not be changed, eg. please do not request 2 grands, more or different pianos, etc. Due to supply chain issues, we have been fortunate in getting permission to use the C2X Mahogany. There was mention of using a digital piano on stage in addition if we get the inventory to do so. If and when we get further ahead on inventory we will revisit this, but it will be most likely long after this recital season. As always, I will make any changes to the recital hall situation shown here on this active web page ASAP.
Please limit refreshments.
Thank you for supporting Yamaha Piano Distributors of Marietta.
This is not a binding contract and could change due to unforeseen circumstances.