About Prodigy
The new PianoDisc Prodigy combines the iQ and SilentDrive HD into one box, resulting in cleaner and
easier installations, and less likelihood of accidental damage. Additionally, it offers far more connection
options, with integrated Bluetooth and USB MIDI, analog, and digital audio.
The new PianoDisc Prodigy is set up entirely via the PianoDisc Calibrate App, and the iQ's "select wheel"
has been removed. Since the calibration is app-based, it offers improved flexibility and accuracy,
resulting in noticeably better performance and easier adjustment.
Here's what's new in Prodigy:
iQ and SilentDrive are now integrated into one box.
Setup and calibration via the PianoDisc Calibrate App
USB MIDI port
Bluetooth MIDI input and output
Bluetooth audio input
TOSLINK digital audio input
Wireless playback information
Please note that Bluetooth wireless playback range and performance is not unlimited and can be
affected by your environment. For best performance, it is recommended that the playback device stay
within 30 feet of your PianoDisc system.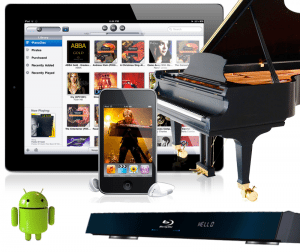 PianoDisc's revolutionary iQ allows you to control your piano with today's latest music playback technology such as the iDevices, Android devices, MP3 players, and other music playback devices. And with PianoDisc's elegant SilentDriveHD that plays your piano, the system will deliver a beautiful, fully expressive piano performance—even at whisper-soft levels..
Easy to Operate
iQ makes operating a PianoDisc player system easier than ever before because you can operate it from something you are familiar with. Simply play, pause, stop or even adjust the volume, as you normally would, and the piano will respond.
As a bonus, the fact that almost any music playback device will work with iQ means that you'll always be able to use the latest music playback gear to control your piano. Think of it as built-in insurance on your investment.
Smart and Invisible
iQ gives you the flexibility to enjoy a truly invisible system, with no visible electronics mounted on the piano. (Not all configurations are "invisible". Your choice of music player will affect whether it is seen or needs to be mounted on the piano.)
Like home automation systems and portable music devices, iQ is a smart system that puts you ahead of the curve.
Plays Your Favorite Music
With iQ, you'll enjoy piano performances created by the world's finest pianists. With one of the largest music libraries in the world, titles in every category from classical to rock, and literally thousands of songs to choose from, PianoDisc is sure to have all your favorites. iQ can even play your piano via DVD players, so you can enjoy watching pianists play your piano live via a PianoVideo. These exciting DVDs deliver Standard or High Definition Blu-ray video and live piano performances. With PianoVideos you'll enjoy original performances made by terrific jazz, pop and New Age players, classical virtuosos, wonderful instrumental groups and fantastic vocalists. With brilliant images on the screen and live piano performances, iQ and PianoVideos will give you a private concert in the comfort of your home.
Entertains in Style
Whether you entertain in grand style, or prefer smaller gatherings, the world's smartest reproducing system will be the center of attention, entertaining your guests for hours. Dine to it, dance with it, or just enjoy the ambience it provides for any occasion.
PianoDisc Remote App
Adjust volume and balance of the piano and accompaniment wirelessly.
"Apple, iPod and iTunes are trademarks or registered trademarks of Apple Inc. Al rights reserved. Apple is not a participant in or sponsor of this promotion."