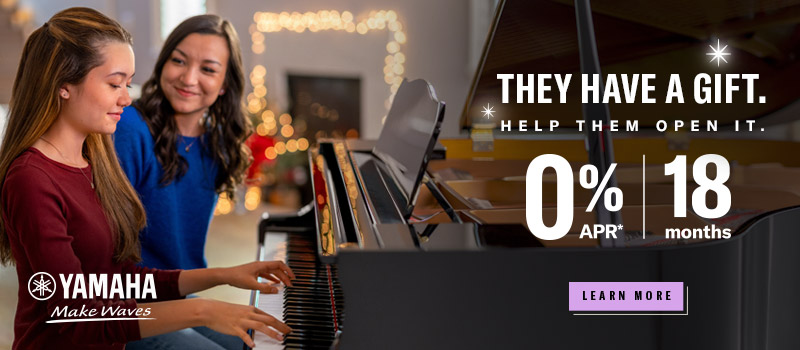 Enjoy 0% APR* for 18 months on select Yamaha pianos.
We invite you to come in to see our entire selection. Private demonstrations are available. Happy Holidays from Our Family to Yours!
*Subject to credit approval. Monthly payments of $55.56 per $1,000 borrowed for 18 months at 0% APR. On purchases of new and in-stock qualifying Yamaha pianos from November 1, 2023 to January 2, 2024.
---
---
Georgia's Largest Piano Store

Piano Distributors of Atlanta
Piano Distributors has been your trusted piano dealer for over 60 years. Our Atlanta-Brookhaven location is located next to I-85, between Clairmont Road and North Druid Hills Road. Piano Distributors offers the best piano prices direct to you. Contact us at your convenience and one of our experienced sales staff will be happy to answer all your questions.
Selection
As America's #1 Yamaha piano retailer, our Atlanta showroom offers you a large selection of new pianos and used pianos for sale. Piano Distributors of Atlanta is your authorized Yamaha piano dealer. We carry all Yamaha pianos – including the world's best selling digital piano, the Clavinova – along with the Disklavier player piano, acoustic grand piano, concert grand piano, baby grand piano, vertical piano, upright piano, silent piano, TransAcoustic piano, and hybrid AvantGrand piano in our store, drawing from a large local warehouse.
Piano Distributors is your one-stop shop for today's top names in pianos. We are easily able to supplement pre-owned pianos from our large family of stores located throughout the Southeastern United States: Yamaha, Young Chang, Cable-Nelson, Kawai, Steinway, retrofit player piano systems such as PianoDisc, Baldwin, Weber, Geyer, Kurzweil, Boston, Essex, Roland, Samick, and many more. Understandably, that gives us an excellent opportunity to provide customers the greatest value and selection for individuals, groups and institutions. Call any time to come in and let us help you make the best choice to fit your needs. Our advice is always free ;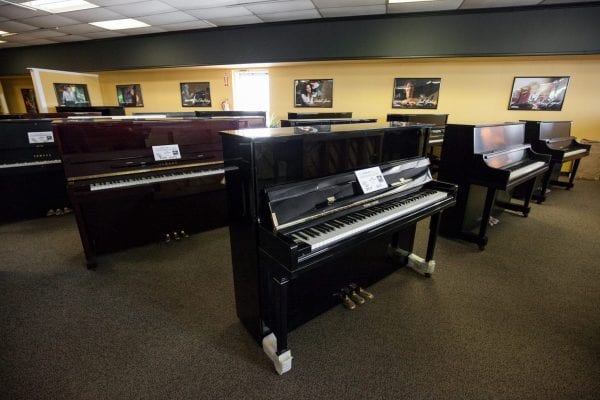 Service and Support
Piano Distributors maintains the highest standards for our clientele by providing highly skilled technicians knowledgeable in all areas of piano maintenance. Piano Distributors offers experienced and dedicated piano instruction, In‑house recitals, concerts by well-known musicians, workshops, and a wide variety of musical activities that make us a dependable center for artistic creation and musical inspiration.
Satisfaction
Piano Distributors' Commitment: We promise to provide the finest product, service and education to our clients; and to be an integral part of the artistic, spiritual and educational communities. We offer a 30-day satisfaction guarantee, 100% trade-up policy, and nobody beats our price!
Piano Lessons
Piano Distributors seeks to bring the joy of music to individuals, families and institutions; and, to be an advocate for music in the communities we serve so as to enrich lives and fulfill dreams. Our studios feature fine quality Yamaha grand pianos and upright pianos along with Yamaha Clavinova and other Yamaha keyboard instruments. We teach all musical styles and all levels.
Please call for information on these private or group lessons in our studios currently offered:
Private Lessons Private Lessons for All Ages: Prices Vary with Teacher
Group Lessons – No Experience Necessary
Make New Friends, Discover Your Musical Spirit, Reduce Stress and Increase Memory
Group Lessons for Seniors: $39.95 for 6, One-Hour per Week, Classes
Clavinova Button Pushing Lessons
Button Pushing Lessons for Clavinova CVP Owners: Free
Music makes a house a home. Piano Distributors — Your Trusted Piano Dealer For Over 60 Years offers tremendous savings on new and used pianos. We are the authorized piano dealer for Bosendorfer, Yamaha, Pearl River, Ritmuller, Kayserburg, and Retrofit Player Piano Systems such as PianoDisc and QRS PNOmation. Shop in store for acoustic, hybrid, or digital pianos and grand, baby grand, or upright pianos. Piano Distributors is your source for preowned pianos from Yamaha, Steinway, Kawai, Baldwin, and more top brand pianos to include value savings on floor models, rental returns, school loaners and trade-in pianos. You will find storewide savings on upright pianos, grand and baby grand pianos, digital Clavinova pianos and Disklavier player hi-def pianos. 
Piano Distributors is the largest piano dealer in the Southeast. You can use our store locator to find your most convenient location. Shop in store to see piano displays or schedule a demonstration in Georgia: Atlanta or Marietta and in Florida: Clearwater, Jupiter, Naples, Orlando, Sarasota or Tampa.
Our knowledgeable and courteous staff will help you find the piano that is just right for you and offer pianos for every price range. Shop Piano Distributors for new pianos, used pianos and discount pianos. Shop the largest selection of pianos in the southeast from: Yamaha, Bösendorfer, Steinway, Pearl River, Ritmüller, Kawai, Baldwin, and more.
Visit our store for a personal demonstration of a Yamaha high technology piano, the Clavinova. Yamaha's premier digital piano line is the preferred instrument in homes and celebrated on the largest stages. Everyone from the most discerning professional pianists to beginning students will appreciate the realistic touch and beautiful tone of a genuine Yamaha Clavinova. Hurry in for huge savings and the best selection on the piano that can teach you to play, the Yamaha Clavinova. Clavinova pianos are digital pianos that faithfully recreate the power and performance of a concert grand. Clavinova continues to inspire players of all levels with its authentic acoustic action, elegant design and unmistakable tone available in baby grand or upright. Piano Distributors is dedicated to providing you with the best possible shopping experience and best Yamaha Clavinova Price! Free product support is included with purchase to ensure that you understand the features and setup of your new piano for your home, house of worship, or other venue.
Piano Distributors is the store to find the best price on Disklaver player pianos and can offer the widest selection of colors and models including the Disklavier Enspire. The Yamaha Disklavier combines technology with tradition to open up a whole new world of musical possibilities. With the touch of a finger, you are instantly ready to enjoy new music over the Internet or listen to an old favorite from your personal collection allowing you to start listening right away. Yamaha continues to innovate and improve their instruments to higher performance levels. This same spirit of innovation has led Yamaha to the development of pianos which enhance the capabilities of the instrument, without compromising the traditional acoustic piano experience.
Yamaha's acoustic pianos are prized for their beautiful tone and touch, along with their storied consistency and amazing value. New Yamaha pianos are a solid investment in advancing one's musical prowess and enjoyment and hold their value exceedingly well. Yamaha has been making world-class acoustic pianos for over a century. These instruments are the top choice of artists, teachers, students and institutions around the world.
Piano Distributors is your exclusive Yamaha piano dealer and the only piano company authorized to sell new Yamaha pianos in this area and offer a factory warranty on new Yamaha pianos. Save thousands off a Yamaha Baby Grand Piano Price – Yamaha Grand Piano Price – Yamaha Upright Piano Price – Yamaha Silent Piano Price – Yamaha TransAcoustic Piano and Yamaha AvantGrand Piano Price.
Piano Distributors is your best choice to purchase a preowned piano and offers delivery and finance options to help you with your purchase. Piano Distributors is here to guide you each step of the way, from research to delivery, with our friendly, concierge-level service.   
Stop in today or call for a virtual demo or private appointment. The store to purchase a piano at the best price with the best selection of new and preowned Yamaha pianos is Piano Distributors! Let Piano Distributors help you find the perfect piano to fit your needs and the best spot in your home with piano templates. Piano Distributors is the piano store to get a quality piano that fits your budget. 
Our knowledgeable and courteous staff will help you find the piano that is just right for you with pianos for every price range and experience level. We won't be undersold and offer 100% trade-up. Call to schedule your personal demonstration of a Yamaha high technology piano to learn about the amazing piano capabilities available. We are dedicated to providing you with the best possible shopping experience and best piano price we can offer! Piano Distributors offers delivery and finance options to help with your purchase. Hurry in today. #Clavinova #Disklavier #UprightPiano #BabyGrandPiano #GrandPiano
Piano Distributors offers many services: piano moving, piano rental, piano lessons, piano tuning, piano sell or consign, piano storage, and piano financing. Call your local store for details. 
Piano Distributors does buy pianos. If you have a piano to sell, please go to the Sell Your Piano link on the home page and complete the information for an appraisal.   Save thousands off new piano prices! 
CLP 795GP CLP 785 CLP 775 CLP 765GP CLP 745 CLP 735 CLP 725 CLP 695GP CLP 665GP CLP 685 CLP 675 CLP 645 CLP 635 CLP 625 CSP 170 CSP 150 CSP 255 CSP 275 CSP 295 CSP 295GP CVP 905 CVP 909 CVP 909 GP CVP 809GP CVP 809 CVP 805 CVP 709GP CVP 709 CVP 705 CVP 701 U1 U3 P22 b1 b2 b3 YUS1 YUS3 YUS5 P660 M560 SU7 N3X N1X NU1X N2 NU1 SC2 SH2 ENSPIRE PRO ENSPIRE ST ENSPIRE CL DC1X DC2X DC3X DC5X DC6X CD7X DKC 850 DGB1K DGC1 DGC2 DKC 900 DS3X DS5X DS6X DS7X DCF4 DCF6 DCFX DU1 DYUS1 DYUS5 GB1K GC1 GC1M GC2 C7X C6X C5X C3X C2X C1X S7X S6X S5X S3X CFX CFX22 CF6 CF4 TA1 TA2 MLC200 MLA200