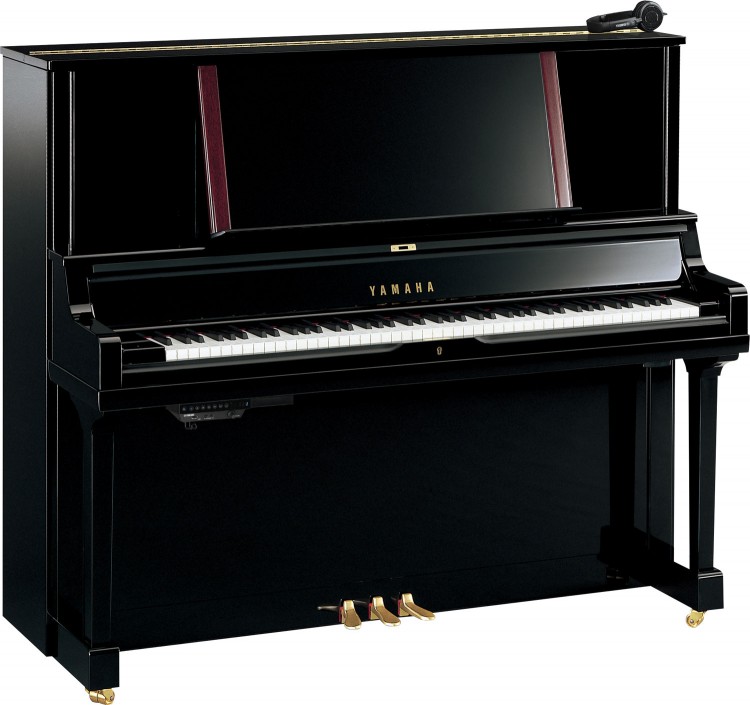 A piano you can play any time you want, with the natural touch of an acoustic vertical piano. The new Silent Piano™ from Yamaha, offering enhanced Silent functions and an even richer sound.
Model: YUS5 SH2
Finish: PE
Size: 52"
Price: $26,199.00
Description:
By day it's a world-renowned acoustic piano. By night, the neighbors won't hear a thing. SILENT Piano™ puts the sound and presence of the world's finest concert grands in your headphones. Simply switch your Yamaha acoustic piano into SILENT mode and our digital technology reproduces the acoustic tones, nuanced colors and resonance so faithfully you'll almost forget you're wearing headphones.
Our patented non-contact Optical Sensor System continuously measures the movement, timing, depth and force of every key attack and release to faithfully capture and reproduce the subtle nuances of your performance
Call for availability and more info..
Meticulously crafted from the finest materials, the YUS5 offers a refined look in an elegant upright design that delivers expressive control, superb sound and natural touch through Yamaha's own Ivorite keyboard. Silent functionality has been added to this YUS5. This is an SH-type type Silent piano™ featuring a CFX sound source.
SH2
Fully integrated SILENT Piano system
Non-contact optical sensor system
Key Sensor type: Continuous grayscale
Hammer Sensor type: Shutter type
Damper Pedal Sensor type: Continuous grayscale
Shift/Soft Sensor type: On/Off detection system
Sostenuto Sensor type: On/Off detection system (for models with sostenuto)
Motorized muting system with Quick Escape mechanism (grands only)
20 playable digital voices
Binaural CFX Concert Grand voice for headphones
480 ensemble voices with 12 Drum Kits
256-note polyphony
Recording formats: Standard MIDI, Audio WAV
Supported file formats: Standard MIDI, WAV
Compatible storage media: USB Flash Memory (up to 64GB)
MIDI connectivity: 5-pin MIDI IN/OUT, USB TO HOST
Audio connectivity: Stereo audio IN x1 (mini stereo), analog audio OUT x 2 (TS), Bluetooth
Headphone connectivity: 1/8" mini stereo x 2
Data connectivity: USB TO DEVICE x 1, UD-WL01 (WiFi)
Smart Pianist app compatibility
Available models: U1, U3, YUS1, YUS3, YUS5, GC1, GC2, C1X, C2X, C3X, C5X, C6X, C7X