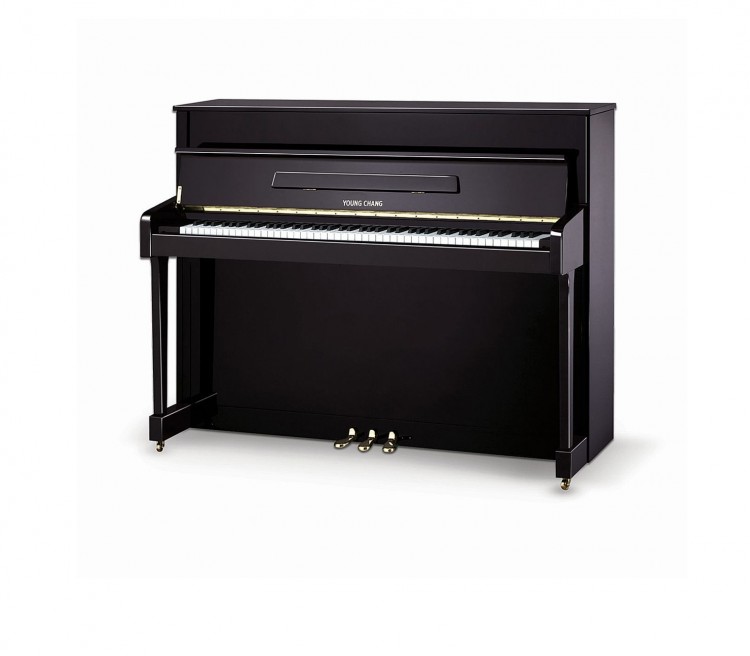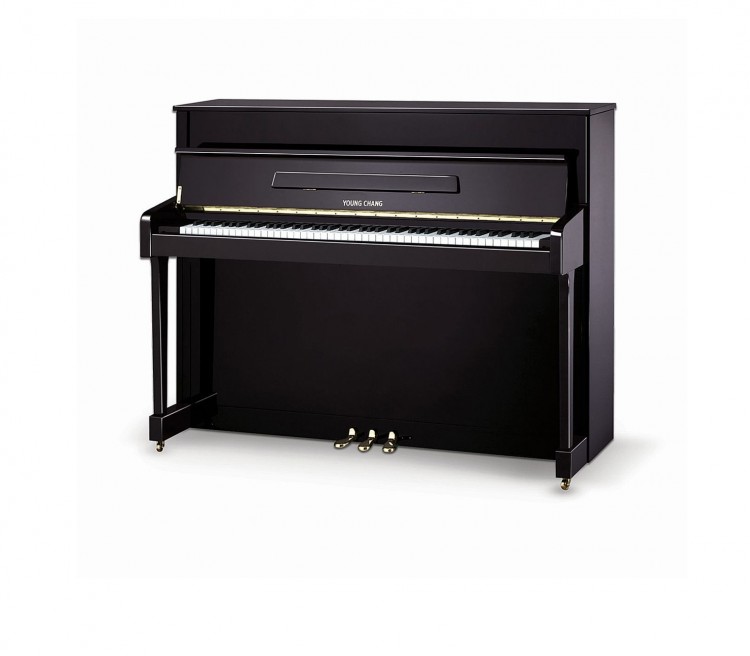 Young Chang vertical pianos are constructed using all top quality materials by skilled artisans. Our entire line is completely re-designed by award winning designer Del Fandrich. These newly designed pianos are noted to have exceptional tonal quality and evenness of touch and sound throughout the entire range of the keyboard. Part of the new design is the unique floating soundboard and direct coupled bass bridge which allows for a much better bass response than most pianos at an even larger size.
A keyboard that conveys the soul of the pianist. Young Chang keyboards are made of spruce and weighted and balanced giving the pianist a more responsive touch.
Model: Y-114
Finish: Ebony Polish, White Polish, Mahogany Red Polish Mahogany Brown Polish, Walnut Polish,
Size: 45"
Price: $
Call for availability and more info..
Y150 SPECIFICATIONS
MEASUREMENTS
HEIGHT 45″ WIDTH 60″ DEPTH 24″ WEIGHT 452 lbs
SOUNDBOARD AND RIBS
MATERIAL SOLID SPRUCE SOUNDBOARD AREA 1991.5 Sq. In. NUMBER OF RIBS 10 CROWNED
BRIDGES
DESIGN LAMINATED BASE/SOLID CAP MATERIAL BEECH/MAPLE C0NSTRUCTION HAND-PLANED, NOTCHED & PINNED
ACOUSTIC-CUT & TAPERED
PLATE
PLATE CASTING
VACUUM PROCESSED CAST-IRON
DESIGN
2' FULL PERIMETER
SCALE
YOUNG CHANG'S OWN DEL FANDRICH SCALE DESIGN
1ST BASS STRING 45″
KEYBOARD
WHITE KEY SURFACE ACRYLIC RESIN BLACK KEY SURFACE SATIN PHENOLIC RESIN KEY MATERIAL SPRUCE WITH MAPLE BUTTON KEY FRAME MATERIAL SPRUCE DESIGN WEIGHTED & BALANCED
HAMMERS
MOULDING MAPLE SHANK MAPLE FELT JAPAN AMBIC FELT WEIGHT 19 lb. T-STAPLED
ADDITIONAL FEATURES
ACTION NORTH AMERICAN ROCK MAPLE PINBLOCK 17 PLY HARD MAPLE TUNING PINS CHROME PLATED, ROLLED THREAD
PEDALS 3 BRASS WITH MUFFER RAIL
CASTERS FRONT/REAR-DOUBLE RUBBER
Y150 SPECIFICATIONS
MEASUREMENTS
HEIGHT 45″ WIDTH 60″ DEPTH 24″ WEIGHT 452 lbs
SOUNDBOARD AND RIBS
MATERIAL SOLID SPRUCE SOUNDBOARD AREA 1991.5 Sq. In. NUMBER OF RIBS 10 CROWNED
BRIDGES
DESIGN LAMINATED BASE/SOLID CAP MATERIAL BEECH/MAPLE C0NSTRUCTION HAND-PLANED, NOTCHED & PINNED
ACOUSTIC-CUT & TAPERED
PLATE
PLATE CASTING
VACUUM PROCESSED CAST-IRON
DESIGN
2' FULL PERIMETER
SCALE
YOUNG CHANG'S OWN DEL FANDRICH SCALE DESIGN
1ST BASS STRING 45″
KEYBOARD
WHITE KEY SURFACE ACRYLIC RESIN BLACK KEY SURFACE SATIN PHENOLIC RESIN KEY MATERIAL SPRUCE WITH MAPLE BUTTON KEY FRAME MATERIAL SPRUCE DESIGN WEIGHTED & BALANCED
HAMMERS
MOULDING MAPLE SHANK MAPLE FELT JAPAN AMBIC FELT WEIGHT 19 lb. T-STAPLED
ADDITIONAL FEATURES
ACTION NORTH AMERICAN ROCK MAPLE PINBLOCK 17 PLY HARD MAPLE TUNING PINS CHROME PLATED, ROLLED THREAD
PEDALS 3 BRASS WITH MUFFER RAIL
CASTERS FRONT/REAR-DOUBLE RUBBER