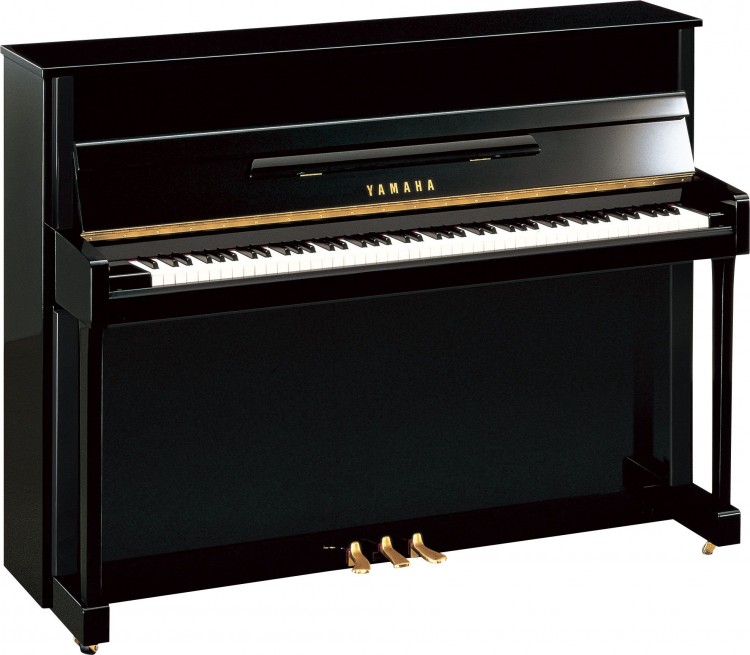 With its larger dimensions and heavier construction, the new b2 delivers a superior sound through added depth and volume. For the ambitious performer on a budget, there is no better piano.(new piano Description)
The b series, like all Yamaha pianos, are instruments of extraordinary, natural beauty, combining art, craftsmanship and technology ; a pleasure to play and to own.
Model: b2 PE
Finish: PE
Size: 45"
Price: $7,499.00
Description:
Description:
Produced at a Yamaha factory in Indonesia from a scale design developed in Japan, b Series pianos are Yamaha's most affordable entry-level uprights. Although reduced production costs allow budget-friendly prices, Yamaha makes no compromises in the materials and workmanship that go into these exceptional uprights.
A piano becomes part of your life and, if well chosen, will be with you for life. Yamaha has been making pianos for over a century, so we understand the value of longevity. For the b Series, we condensed 125 years of knowledge and experience into our most affordable pianos ever. No corners were cut, no compromises were made in materials or workmanship; we simply created fully-featured pianos at a lower price. The b Series keyboard maintains the unrivalled Yamaha reputation for a traditional, perfectly weighted touch. High-grade acrylic and phenolic resins provide comfort, durability and satisfying texture for the white and black keys, respectively. The actions and hammers are checked and finished by our craftsmen, giving them the opportunity to adjust the piano's response for optimum performance and ensuring delivery of a warm, superior sound. Also contributing to that warm tone is the soundboard, which incorporates a superior crown design for maximum resonance and sound performance, enhanced by speciallyselected ribs that are matched to the soundboard. Attention to detail extends down to the pedals. Made of high quality die cast brass, they offer the utmost in durability, performance and style. In short, the quality and style of Yamaha b Series pianos will inspire a lifetime of music playing and enjoyment.
Call for availability and more info..
Comment - Supported by four sturdy wooden back posts and a strong cast iron frame, b Series pianos are endowed with Yamaha's renowned pure, clear tone. High-grade hammers and a proven action design offer effortless playing and a highly responsive keyboard 'touch' that make these uprights ideal for beginning players.
Specs
Color/Finish
| | | |
| --- | --- | --- |
| Cabinet | Finish | Polished Ebony |
Size/Weight
Dimensions
Width
149cm (59")
Height
113cm (44.5")
Depth
53cm (21")
Weight
Weight
194kg (428 lbs)
Control Interface
Keyboard
Number of Keys
88
Key Surfaces - White
Acrylic Resin
Key Surfaces - Black
Phenolic Resin with Wooden Filler
Pedal
Type
Shift, Muffler, Damper
Design/Architecture Detail
| | | |
| --- | --- | --- |
| Hammer | Type | b Series Special |
| Caster | Type | Single caster (Chinese Supplier) |
Cabinet
Key Cover
Lid/Fallboard Locks
No
Soft-Close Fallboard
No
Functions
| | | |
| --- | --- | --- |
| Frame | Type | V-process |
| Back Post | Number | 4 |