Yamaha–CVP909GP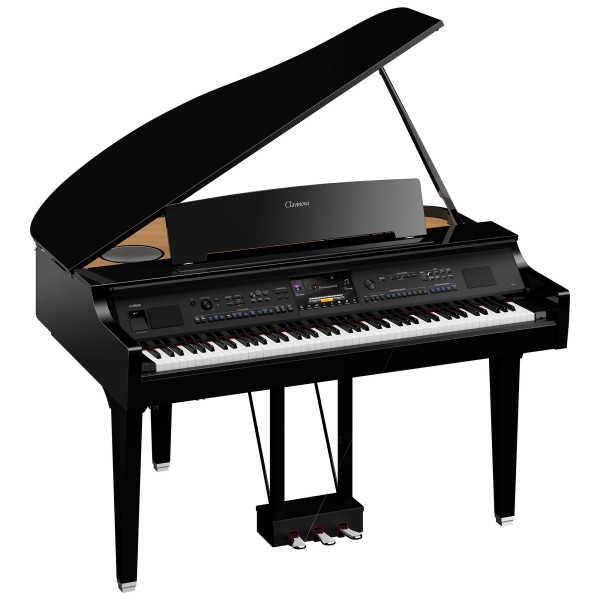 Finish: PE
Call for availability and more info..
Price: $20,999.00
About: Experience the difference In addition to the functions of the flagship CVP-909, the CVP-909GP features a luxurious, elegant grand piano-style cabinet that recreates the three-dimensional acoustics of a grand. Find a Store Product Registration
Overview:
Experience the difference
With its large cabinet, beautiful curves, and other styling accents, the CVP-909GP has a grand piano-like presence that will take your breath away. The GrandTouch keyboard with escapement is finished with Synthetic ebony and Ivory Keytops for an outstanding tactile touch response. The GrandTouch Pedals add the precise control that you expect from an acoustic grand piano and brings it into the digital world.
Specs:
CVP-909GP

CVP-909

CVP-905

Size/Weight
Dimensions
Width
1,430 mm (56-5/16")
1,426 mm (56-1/8") (Polished finish: 1,429 mm (56-1/4"))
1,420 mm (55-15/16") (Polished finish: 1,423 mm (56-0"))
Height
913 mm (35-15/16")
868 mm (34-3/16") (Polished finish: 872 mm (34-5/16"))
868 mm (34-3/16") (Polished finish: 871 mm (34-5/16"))
Depth
1,236 mm (48-11/16")
612 mm (24-1/8") (Polished finish: 612 mm (24-1/8"))
592 mm (23-5/16") (Polished finish: 593 mm (23-3/8"))
Weight
Weight
130 kg (286 lb, 10 oz)
82 kg (180 lb, 12 oz) (Polished finish: 85 kg (187 lb, 6 oz))
82 kg (180 lb, 12 oz) (Polished finish: 84 kg (185 lb, 3 oz))
Packing Box
Width
1,570 mm (61-13/16")
1,567 mm (61-11/16")
1,551 mm (61-1/16")
Height
620 mm (24-7/16")
716 mm (28-3/16")
708 mm (27-7/8")
Depth
1,410 mm (55-1/2")
745 mm (29-5/16")
736 mm (29")
Control Interface
Keyboard
Number of Keys
88
88
88
Type
GrandTouch Keyboard: wooden keys (white only), synthetic ebony and ivory key tops, escapement
GrandTouch Keyboard: wooden keys (white only), synthetic ebony and ivory key tops, escapement
GrandTouch Keyboard: wooden keys (white only), synthetic ebony and ivory key tops, escapement
Touch Sensitivity
Hard2/Hard1/Medium/Soft1/Soft2
Hard2/Hard1/Medium/Soft1/Soft2
Hard2/Hard1/Medium/Soft1/Soft2
88-key Linear Graded Hammers
Yes
Yes
Yes
Counterweight
Yes
Yes
-
Pedal
Number of Pedals
3
3
3
Half Pedal
Yes
Yes
Yes
GrandTouch Pedals
Yes (with GP Response Damper)
Yes (with GP Response Damper)
Yes
Functions
Sustain, Sostenuto, Soft, Glide, Song Play/Pause, Style Start/Stop, Volume, etc
Sustain, Sostenuto, Soft, Glide, Song Play/Pause, Style Start/Stop, Volume, etc
Sustain, Sostenuto, Soft, Glide, Song Play/Pause, Style Start/Stop, Volume, etc
Display
Type
TFT Color LCD (Touch Screen)
TFT Color LCD (Touch Screen)
TFT Color LCD (Touch Screen)
Size
800 × 480 dots 9.0 inch
800 × 480 dots 9.0 inch
800 × 480 dots 7.0 inch
LCD Brightness
Yes
Yes
Yes
Touch Screen
Yes
Yes
Yes
Color
Yes
Yes
Yes
Score Display Function
Yes
Yes
Yes
Lyrics Display Function
Yes
Yes
Yes
Text Viewer Function
Yes
Yes
Yes
Language
English, German, French, Spanish, Italian, Japanese
English, German, French, Spanish, Italian, Japanese
English, German, French, Spanish, Italian, Japanese
Panel
Language
English
English
English
Cabinet
Key Cover
Key Cover Style
Folding
Folding
Folding
Music Rest
Yes
Yes
Yes
Music Clips
Yes
Yes
Yes
Voices
Tone Generation
Piano Sound
Yamaha CFX, Bösendorfer Imperial
Yamaha CFX, Bösendorfer Imperial
Yamaha CFX, Bösendorfer Imperial
Binaural Sampling
Yes ("CFX Concert Grand" and "Bösendorfer Grand" Voice only)
Yes ("CFX Concert Grand" and "Bösendorfer Grand" Voice only)
Yes ("CFX Concert Grand" and "Bösendorfer Grand" Voice only)
Key-off Samples
Yes
Yes
Yes
Smooth Release
Yes
Yes
Yes
Virtual Resonance Modeling (VRM)
Yes
Yes
Yes
Grand Expression Modeling
Yes
Yes
Yes
Polyphony
Number of Polyphony (Max.)
256
256
256
Preset
Number of Voices
1,605 Voices + 58 Drum/SFX Kits + 480 XG Voices
1,605 Voices + 58 Drum/SFX Kits + 480 XG Voices
1,315 Voices + 49 Drum/SFX Kits + 480 XG Voices
Featured Voices
17 VRM Voices, 36 Super Articulation2 Voices, 301 Super Articulation Voices
17 VRM Voices, 36 Super Articulation2 Voices, 301 Super Articulation Voices
14 VRM Voices, 227 Super Articulation Voices
Custom
Voice Edit
Yes
Yes
Yes
Compatibility
XG, GS (for Song playback), GM, GM2
XG, GS (for Song playback), GM, GM2
XG, GS (for Song playback), GM, GM2
Effects
Types
Reverb
65 Preset + 30 User
65 Preset + 30 User
65 Preset + 30 User
Chorus
107 Preset + 30 User
107 Preset + 30 User
106 Preset + 30 Use
Master Compressor
5 Preset + 30 User
5 Preset + 30 User
5 Preset + 30 User
Master EQ
5 Preset + 30 User
5 Preset + 30 User
5 Preset + 30 User
Part EQ
27 Parts
27 Parts
27 Parts
Intelligent Acoustic Control (IAC)
Yes
Yes
Yes
Stereophonic Optimizer
Yes
Yes
Yes
Insertion Effect
358 Preset + 30 User
358 Preset + 30 User
322 Preset + 30 User
Variation Effect
358 Preset + 30 User
358 Preset + 30 User
322 Preset + 30 User
Vocal Harmony
54 Preset + 60 User
54 Preset + 60 User
54 Preset + 60 User
Functions
Dual/Layers
Yes
Yes
Yes
Split
Yes
Yes
Yes
Accompaniment Styles
Preset
Number of Preset Styles
675
675
525
Fingering
Single Finger, Fingered, Fingered On Bass, Multi Finger, AI Fingered, Full Keyboard, AI Full Keyboard
Single Finger, Fingered, Fingered On Bass, Multi Finger, AI Fingered, Full Keyboard, AI Full Keyboard
Single Finger, Fingered, Fingered On Bass, Multi Finger, AI Fingered, Full Keyboard, AI Full Keyboard
Style Control
INTRO × 3, MAIN VARIATION × 4, FILL × 4, BREAK, ENDING × 3
INTRO × 3, MAIN VARIATION × 4, FILL × 4, BREAK, ENDING × 3
INTRO × 3, MAIN VARIATION × 4, FILL × 4, BREAK, ENDING × 3
Custom
Style Creator
Yes
Yes
Yes
Other Features
Music Finder
Yes
Yes
Yes
One Touch Setting (OTS)
4 for each Style
4 for each Style
4 for each Style
Style Recommender
-
-
-
Chord Looper
Yes
Yes
Yes
File Format
Style File Format (SFF), Style File Format GE (SFF GE)
Style File Format (SFF), Style File Format GE (SFF GE)
Style File Format (SFF), Style File Format GE (SFF GE)
Songs
Preset
Number of Preset Songs
50 Classics + 303 Lesson Songs + 60 Popular
50 Classics + 303 Lesson Songs + 60 Popular
50 Classics + 303 Lesson Songs + 60 Popular
Recording
Number of Tracks
16
16
16
Data Capacity
approx. 3 MB/Song
approx. 3 MB/Song
approx. 3 MB/Song
Recording Function
Yes
Yes
Yes
Compatible Data Format
Playback
SMF (Format 0, Format 1), XF
SMF (Format 0, Format 1), XF
SMF (Format 0, Format 1), XF
Recording
SMF (Format 0)
SMF (Format 0)
SMF (Format 0)
Functions
Demo
Yes
Yes
Yes
Registration
Number of Buttons
8
8
8
Control
Registration Sequence, Freeze
Registration Sequence, Freeze
Registration Sequence, Freeze
Playlist
Number of Records
2,500
2,500
2,500
Lesson/Guide
Lesson/Guide
Follow Lights, Any Key, Karao-Key, Your Tempo (with guide lamps)
Follow Lights, Any Key, Karao-Key, Your Tempo (with guide lamps)
Follow Lights, Any Key, Karao-Key, Your Tempo (with guide lamps)
Guide Lamp
Yes
Yes
Yes
Performance Assistant Technology (PAT)
Yes
Yes
Yes
Piano Room
Yes
Yes
Yes
USB Audio Recorder
Playback
WAV (44.1kHz, 16bit, stereo), MP3 (MPEG-1 Audio Layer-3)
WAV (44.1kHz, 16bit, stereo), MP3 (MPEG-1 Audio Layer-3)
WAV (44.1kHz, 16bit, stereo), MP3 (MPEG-1 Audio Layer-3)
Recording
WAV (44.1kHz, 16bit, stereo), MP3 (MPEG-1 Audio Layer-3)
WAV (44.1kHz, 16bit, stereo), MP3 (MPEG-1 Audio Layer-3)
WAV (44.1kHz, 16bit, stereo), MP3 (MPEG-1 Audio Layer-3)
USB Audio
Time Stretch
Yes
Yes
Yes
Pitch Shift
Yes
Yes
Yes
Vocal Cancel
Yes
Yes
Yes
Miscellaneous
Metronome
Yes
Yes
Yes
Tempo Range
5 – 500, Tap Tempo
5 – 500, Tap Tempo
5 – 500, Tap Tempo
Transpose
−12 – 0 – +12
−12 – 0 – +12
−12 – 0 – +12
Tuning
414.8 – 440 – 466.8 Hz (approx. 0.2 Hz increments)
414.8 – 440 – 466.8 Hz (approx. 0.2 Hz increments)
414.8 – 440 – 466.8 Hz (approx. 0.2 Hz increments)
Scale Type
9 Types
9 Types
9 Types
Display Out
Yes (by using a commercially available USB display adaptor*)
Yes (by using a commercially available USB display adaptor*)
Yes (by using a commercially available USB display adaptor*)
Bluetooth
Yes (Audio)
Yes (Audio)
Yes (Audio)
Storage and Connectivity
Storage
Internal Memory
approx. 2 GB
approx. 2 GB
approx. 2 GB
External Drives
USB flash drive
USB flash drive
USB flash drive
Connectivity
Headphones
Standard stereo phone jack (× 2)
Standard stereo phone jack (× 2)
Standard stereo phone jack (× 2)
Microphone
Mic/Line in (standard mono phone jack), Input volume
Mic/Line in (standard mono phone jack), Input volume
Mic/Line in (standard mono phone jack), Input volume
MIDI
IN, OUT, THRU
IN, OUT, THRU
IN, OUT, THRU
AUX IN
Stereo mini jack
Stereo mini jack
Stereo mini jack
AUX OUT
L/L+R, R
L/L+R, R
L/L+R, R
AUX Pedal
Yes
Yes
Yes
USB TO DEVICE
Yes (× 2)
Yes (× 2)
Yes (× 2)
USB TO HOST
Yes
Yes
Yes
Amplifiers and Speakers
Amplifiers
(40 W + 30 W + 20 W) × 2 + 80 W
(40 W + 30 W + 20 W) × 2 + 80 W
(45 W + 20 W) × 2
Speakers
16 cm + 5 cm + 2.5 cm (dome)) × 2 + 20 cm, Spruce Cone Speaker, Twisted Flare Port
16 cm + 5 cm + 2.5 cm (dome)) × 2 + 20 cm, Spruce Cone Speaker, Twisted Flare Port
(16 cm + 2.5 cm (dome)) × 2
Power Supply
Power Consumption
67W
64W
52W
Accessories
Accessories
Headphones (HPH-150/HPH-100/HPH-50), Footswitches (FC4A/FC5), Foot controller (FC7), USB wireless LAN adaptor (UD-WL01)
Headphones (HPH-150/HPH-100/HPH-50), Footswitches (FC4A/FC5), Foot controller (FC7), USB wireless LAN adaptor (UD-WL01)
Headphones (HPH-150/HPH-100/HPH-50), Footswitches (FC4A/FC5), Foot controller (FC7), USB wireless LAN adaptor (UD-WL01)

CVP-909GP

CVP-909

CVP-905
---