Using SmartPianist together with a AvantGrand N3X
1. Check that the N3X instrument firmware is V2.0 or above.
 You can check the details on the V2.0 firmware on the download page. For details on downloaded and updating, refer to the PDF file included in the Firmware folder.
2. There are two methods for connecting an instrument to iOS devices with Smart Pianist V2.1 installed.
A. Connect using a cable
An Apple Lightning – USB Camera Adapter and USB cable (sold separately) are required.
Connect the USB cable to the USB TO HOST port on the instrument.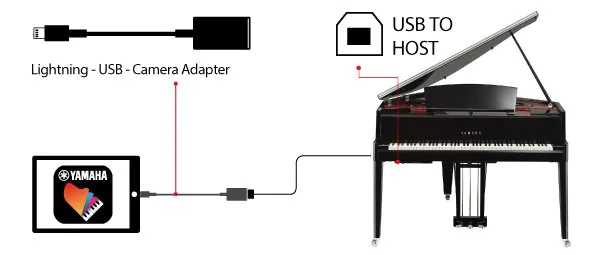 *If you are using iPad pro 12.9 inch 3rd generation or iPad pro 11inch, please use Apple USB-C Digital AV Multiport Adapter or Apple USB-C VGA Multiport Adapter.
B. Connect wirelessly using Wi-Fi.*Varies by area
The UD-WL01 (sold separately) must be purchased to use a wireless connection.
Connect the UD-WL01 to the USB TO DEVICE port on the instrument.