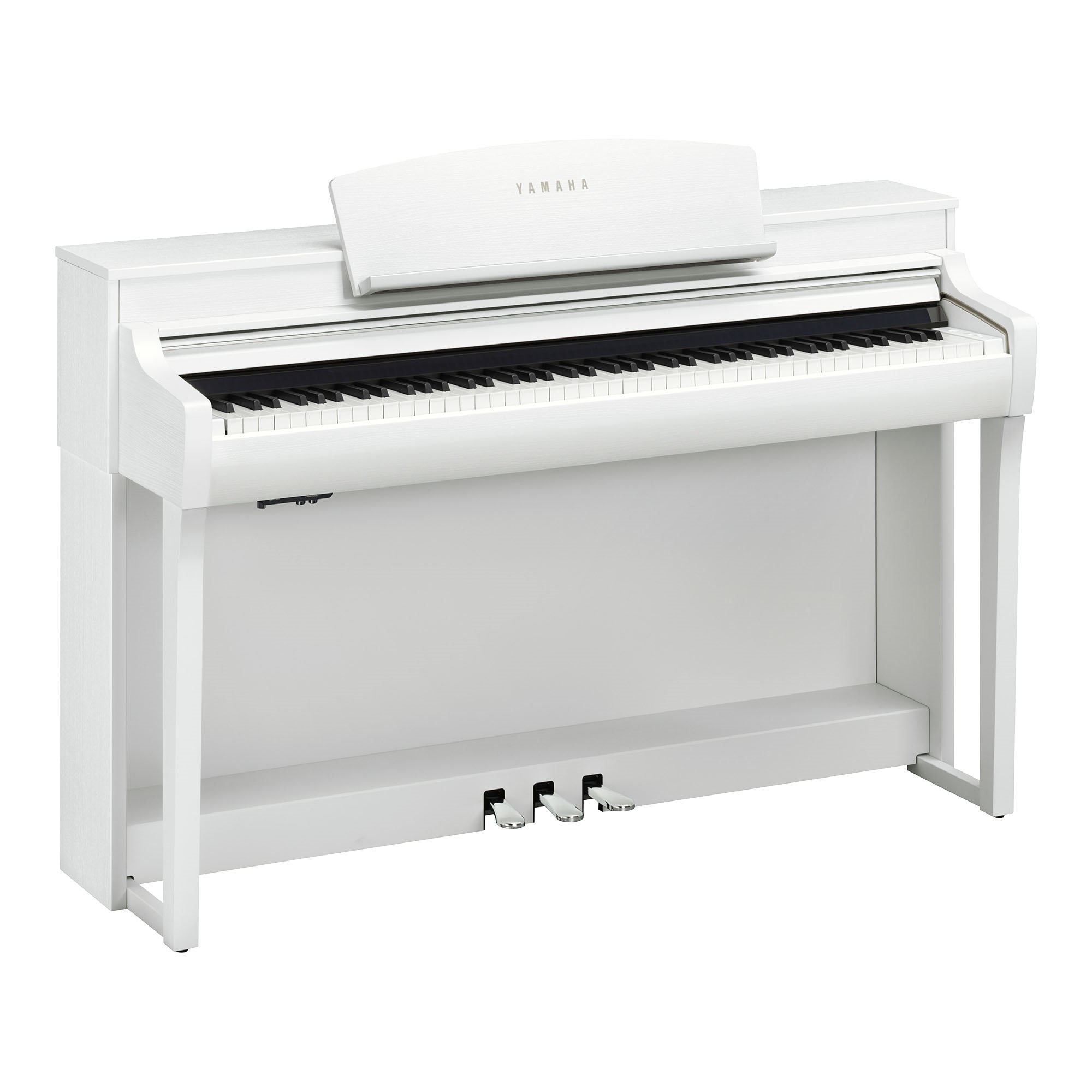 Yamaha-CSP255
Finish: WH
Call for availability and more info..
Price: $4,499.00
About: Music lovers who have always wanted to learn to play the piano can now fulfill what, for many, is a lifelong dream. The CSP-255 teaches anyone to effortlessly learn and master their favorite songs directly from their smart device's music library.
Overview:
Step Ups From Lower Model:
CSP-150
"GrandTouch-S Keyboard: plastic keys"
Yamaha CFX, Bösendorfer Imperial (Same as CLP-700 Series)
Binaural Sampling for CFX and Bösendorfer vs Only CFX
Grand Expression Modeling
772 Voices + 47 Drum/SFX Kits vs 692 Voices + 29 Drum/SFX Kits
65 types of Reverb vs. 58
495 Styles vs 470
Bluetooth MIDI and Audio
USB-C
Diffuser Grill Speaker
40W x2 Amplifiers vs 30W
EXPERIENCE EXCELLENCE
The CSP-255 teaches anyone how to play their favorite songs from the music library already on their smart device. Stream Lights move towards each key to show users which notes to play and when. Based on their skill level, users can adjust the speed at which they're learning and the difficulty of the piano arrangement as they improve.
EXPERIENCE FULL CONTROL WITH SMART PIANIST
With the Yamaha Smart Pianist app, you have full control over your instrument using your smart device. Easily choose from a wide range of instrument sounds and switch between various virtual performance spaces, such as a concert hall or cathedral, enhancing your acoustic environment.
*The app is available at the App Store and Google Play.
Specs:
CSP-295GP

CSP-295

CSP-275

CSP-255

Size/Weight
Dimensions
Width
1,430 mm (56-5/16″)
1,437 mm (56-9/16″) [Polished finish: 1,437 mm (56-9/16″)]
1,412 mm (55-9/16″) [Polished finish: 1,418 mm (55-13/16″)]
1,412 mm (55-9/16″) [Polished finish: 1,418 mm (55-13/16″)]
Height
With music rest closed: 931 mm (36-5/8″), With music rest raised: 1,093 mm (43-1/16″), With lid up: 1,580 mm (62-3/16″)
1,127 mm (44-3/8″) [Polished finish: 1,129 mm (44-7/16″)]
1,041 mm (41″) [Polished finish: 1,041 mm (41″)]
1,041 mm (41″) [Polished finish: 1,041 mm (41″)]
Depth
1,237 mm (48-11/16″)
484 mm (19-1/16″) [Polished finish: 484 mm (19-1/16″)]
465 mm (18-5/16″) [Polished finish: 466 mm (18-3/8″)]
465 mm (18-5/16″) [Polished finish: 466 mm (18-3/8″)]
Weight
Weight
133 kg (293 lb, 3 oz)
99 kg (218 lb, 4 oz) [PE: 103 kg (227 lb, 1 oz) / PWH: 104 kg (229 lb, 4 oz)]
67 kg (147 lb, 11 oz) [Polished finish: 69 kg (152 lb, 2 oz)]
58 kg (127 lb, 14 oz) [Polished finish: 61 kg (134 lb, 8 oz)]
Packing Box
Width
1,570 mm (61-13/16″)
1,544 mm (60-25/32″)
1,563 mm (61-17/32″)
1,545 mm (60-53/64″)
Height
620 mm (24-13/32″)
1,226 mm (48-17/64″)
621 mm (24-29/64″)
621 mm (24-29/64″)
Depth
1,410 mm (55-33/64″)
578 mm (22-3/4″)
740 mm (49-9/64″)
580 mm (22-53/64″)
Control Interface
Keyboard
Number of Keys
88
88
88
88
Type
GrandTouch™ Keyboard: wooden keys (white only), synthetic ebony and ivory key tops, escapement
GrandTouch™ Keyboard: wooden keys (white only), synthetic ebony and ivory key tops, escapement
GrandTouch-S™ Keyboard: wooden keys (white only), synthetic ebony and ivory key tops, escapement
GrandTouch-S™ Keyboard: synthetic, ebony and ivory key tops, escapement
Touch Sensitivity
Soft2/Soft1/Medium/Hard1/Hard2/Fixed
Soft2/Soft1/Medium/Hard1/Hard2/Fixed
Soft2/Soft1/Medium/Hard1/Hard2/Fixed
Soft2/Soft1/Medium/Hard1/Hard2/Fixed
88-key Linear Graded Hammers
Yes
Yes
–
–
Counterweight
Yes
Yes
–
–
Pedal
Number of Pedals
3: Damper (with half-pedal function), Sostenuto, Soft
3: Damper (with half-pedal function), Sostenuto, Soft
3: Damper (with half-pedal function), Sostenuto, Soft
3: Damper (with half-pedal function), Sostenuto, Soft
GrandTouch Pedals
Yes
–
–
–
GP Response Damper Pedal
Yes
Yes
–
–
Functions
Sustain, Sostenuto, Soft, Glide, Style Start/Stop, Volume, etc.
Sustain, Sostenuto, Soft, Glide, Style Start/Stop, Volume, etc.
Sustain, Sostenuto, Soft, Glide, Style Start/Stop, Volume, etc.
Sustain, Sostenuto, Soft, Glide, Style Start/Stop, Volume, etc.
Display
Type
Depending on the Smart Device
Depending on the Smart Device
Depending on the Smart Device
Depending on the Smart Device
Size
Depending on the Smart Device
Depending on the Smart Device
Depending on the Smart Device
Depending on the Smart Device
Language
26 Languages (English, Japanese, Germany, French, Spanish, etc.)
26 Languages (English, Japanese, Germany, French, Spanish, etc.)
26 Languages (English, Japanese, Germany, French, Spanish, etc.)
26 Languages (English, Japanese, Germany, French, Spanish, etc.)
Panel
Language
English
English
English
English
Cabinet
Key Cover
Key Cover Style
Sliding
Folding
Sliding
Sliding
Music Rest
Yes
Yes
Yes
Yes
Music Clips
Yes
Yes
Yes
Yes
Voices
Tone Generation
Piano Sound
Yamaha CFX, Bösendorfer Imperial
Yamaha CFX, Bösendorfer Imperial
Yamaha CFX, Bösendorfer Imperial
Yamaha CFX, Bösendorfer Imperial
Binaural Sampling
Yes ("CFX Grand" and "Bösendorfer" only)
Yes ("CFX Grand" and "Bösendorfer" only)
Yes ("CFX Grand" and "Bösendorfer" only)
Yes ("CFX Grand" and "Bösendorfer" only)
Key-off Samples
Yes
Yes
Yes
Yes
Smooth Release
Yes
Yes
Yes
Yes
Virtual Resonance Modeling (VRM)
Yes
Yes
Yes
Yes
Grand Expression Modeling
Yes
Yes
Yes
Yes
Polyphony
Number of Polyphony (Max.)
256
256
256
256
Preset
Number of Voices
872 Voices + 47 Drum/SFX Kits
872 Voices + 47 Drum/SFX Kits
772 Voices + 47 Drum/SFX Kits
772 Voices + 47 Drum/SFX Kits
Compatibility
XG, GS, GM, GM2
XG, GS, GM, GM2
XG, GS, GM, GM2
XG, GS, GM, GM2
Effects
Types
Reverb
65 Types
65 Types
65 Types
65 Types
Master EQ
5 Types
5 Types
5 Types
5 Types
Vocal Harmony
44 Types
44 Types
44 Types
44 Types
Intelligent Acoustic Control (IAC)
Yes
Yes
Yes
Yes
Stereophonic Optimizer
Yes
Yes
Yes
Yes
Functions
Dual/Layers
Yes
Yes
Yes
Yes
Split
Yes
Yes
Yes
Yes
Accompaniment Styles
Preset
Number of Preset Styles
525
525
495
495
Style Control
INTRO x 1, ENDING x 1, MAIN x 4, FILL IN x 4
INTRO x 1, ENDING x 1, MAIN x 4, FILL IN x 4
INTRO x 1, ENDING x 1, MAIN x 4, FILL IN x 4
INTRO x 1, ENDING x 1, MAIN x 4, FILL IN x 4
Other Features
Music Finder
–
–
–
–
One Touch Setting (OTS)
–
–
–
–
Songs
Preset
Number of Preset Songs
403
403
403
403
Recording
Number of Songs
Depending on the Smart Device
Depending on the Smart Device
Depending on the Smart Device
Depending on the Smart Device
Number of Tracks
16
16
16
16
Data Capacity
Depending on the Smart Device
Depending on the Smart Device
Depending on the Smart Device
Depending on the Smart Device
Compatible Data Format
Playback
SMF (Format 0 & 1), XF
SMF (Format 0 & 1), XF
SMF (Format 0 & 1), XF
SMF (Format 0 & 1), XF
Recording
SMF (Format 0)
SMF (Format 0)
SMF (Format 0)
SMF (Format 0)
Functions
Piano Room
Yes
Yes
Yes
Yes
Lesson/Guide
Lesson/Guide
Correct Key, Any Key, Karao-Key, Your Tempo
Correct Key, Any Key, Karao-Key, Your Tempo
Correct Key, Any Key, Karao-Key, Your Tempo
Correct Key, Any Key, Karao-Key, Your Tempo
Guide Lamp
Stream Lights (4 steps)
Stream Lights (4 steps)
Stream Lights (4 steps)
Stream Lights (4 steps)
USB Audio Recorder
Recording
Depending on the Smart Device
Depending on the Smart Device
Depending on the Smart Device
Depending on the Smart Device
Playback
Supported format by the Smart Device
Supported format by the Smart Device
Supported format by the Smart Device
Supported format by the Smart Device
USB Audio
Time Stretch
Yes
Yes
Yes
Yes
Pitch Shift
Yes
Yes
Yes
Yes
Vocal Cancel
Melody Suppressor
Melody Suppressor
Melody Suppressor
Melody Suppressor
Overall Controls
Metronome
Yes
Yes
Yes
Yes
Tempo Range
5 – 500, Tap Tempo
5 – 500, Tap Tempo
5 – 500, Tap Tempo
5 – 500, Tap Tempo
Transpose
-12 – 0 – 12
-12 – 0 – 12
-12 – 0 – 12
-12 – 0 – 12
Tuning
414.8 – 440.0 – 466.8 Hz (0.2 Hz increments)
414.8 – 440.0 – 466.8 Hz (0.2 Hz increments)
414.8 – 440.0 – 466.8 Hz (0.2 Hz increments)
414.8 – 440.0 – 466.8 Hz (0.2 Hz increments)
Scale Type
9
9
9
9
Audio to Score
Yes
Yes
Yes
Yes
Registration Memory
Yes
Yes
Yes
Yes
Bluetooth
Audio/MIDI (varies by country)
Audio/MIDI (varies by country)
Audio/MIDI (varies by country)
Audio/MIDI (varies by country)
Storage and Connectivity
Storage
External Drives
Depending on the Smart Device
Depending on the Smart Device
Depending on the Smart Device
Depending on the Smart Device
Connectivity
Headphones
Standard stereo phone jack (× 2)
Standard stereo phone jack (× 2)
Standard stereo phone jack (× 2)
Standard stereo phone jack (× 2)
Microphone
Mic/Line In, Input Volume
Mic/Line In, Input Volume
Mic/Line In, Input Volume
Mic/Line In, Input Volume
MIDI
IN, OUT, THRU
IN, OUT, THRU
IN, OUT, THRU
IN, OUT, THRU
AUX IN
Stereo Mini jack
Stereo Mini jack
Stereo Mini jack
Stereo Mini jack
AUX OUT
Standard phone jack (R, L/L+R)
Standard phone jack (R, L/L+R)
Standard phone jack (R, L/L+R)
Standard phone jack (R, L/L+R)
AUX Pedal
Yes
Yes
Yes
Yes
USB TO DEVICE
Yes
Yes
Yes
Yes
DC IN
Yes
Yes
Yes
Yes
Amplifiers and Speakers
Amplifiers
(50 W + 50 W+ 40 W) × 2
(50 W + 50 W+ 40 W) × 2
(50 W + 50 W) × 2
40 W × 2
Speakers
(16 cm + 8 cm + 2.5 cm (dome) with Waveguide) × 2 + 20 cm, Spruce Cone Speaker, Twisted Flare Port
(16 cm + 8 cm + 2.5 cm (dome) with Bidirectional Horn) × 2, Spruce Cone Speaker
(16 cm + 8 cm) × 2
16 cm × 2
Power Supply
Power Consumption
75 W
72 W
60 W
50 W
Auto Power Off
Yes
Yes
Yes
Yes
Accessories
Accessories
Owner's Manual, USB cable(Type-C to Type-C), Online Member Product Registration, Power cord, Bench* (*May not be included depending on your area.)
Owner's Manual, USB cable(Type-C to Type-C), Online Member Product Registration, Power cord, Bench* (*May not be included depending on your area.)
Owner's Manual, USB cable(Type-C to Type-C), Online Member Product Registration, Power cord, Bench* (*May not be included depending on your area.)
Owner's Manual, USB cable(Type-C to Type-C), Online Member Product Registration, Power cord, Bench* (*May not be included depending on your area.)

CSP-295GP

CSP-295

CSP-275

CSP-255
Stream Lights Smart Pianist Yamaha CFX & Bösendorfer Imperial Piano Samples Virtual Resonance Modeling (VRM) Binaural Sampling GrandTouch-S™ Keyboard with Synthetic Ebony and Ivory Tops Rec'n'Share 1/4″ Mic Input
---