Piano Distributors is proud to introduce our Fairview Heights store, opened in 2010, just a half mile from Lotawata Creek on the outer road at Rte159 (N Illinois St) and Interstate 64.
Our customers enjoy over 15,000 square feet of showroom, including a recital hall that seats over 100 music enthusiasts. Students and musicians can play a Yamaha Concert Grand or relax in our reception sitting area. (If you want to simply enjoy the ambiance of a keyboard environment that houses over 100 pianos, including digital pianos of all makes and sizes).
We offer quality piano instruction from our teaching studios for all ages in a one-on-one environment, as well as recreational music-making group lessons for the beginning adult who just wants to have fun playing music.
We firmly believe that the gift of music has no rival when it comes to the enrichment of one's life. Don't say "I wish I had kept playing," or, "It's too late to start," just stop by and let us show you how you can begin a lifetime of music and fun!
Yamaha's Silent Piano Combines the Elegance of an Acoustic with the Convenience of a Digital Piano
Yamaha's truly amazing Silent Pianos let you harness the power of an acoustic piano, while also providing the flexibility and convenience of a digital. Silent Pianos are fully acoustic and feature some of the best sound that Yamaha has to offer. They also allow you to plug in headphones and switch over to digital, letting you practice your music in peace with access to great digital features such as recording capabilities, MIDI-equipped instruments, and music related apps. In addition, you still have the weight and feel of a real acoustic piano while playing in silent, digital mode. To find out more about Yamaha Silent Pianos,
click here. 
When Yamaha positioned the b Series as the 'piano to grow with,' they recognized that for many people this would be the first piano on their lifetime journey of making music. Often, as one's daily rigors of practice and perfection of skills progresses, that hidden dream of owning a grand piano begins to grow. What better way to keep your eye on the prize than to have the assurance that the investment of your practice, time and money will all contribute to that end goal.
Effective October 2014, all owners will be eligible to trade-up their b Series piano applying 100% of their purchase price against the purchase of a new Yamaha GC, CX or CF Series grand piano. Regardless of where they currently live, or may move in the future within the United States, their investment will be protected for up to 10 years at Piano Distributors.
For Children: Keyboard Encounters Kids – 5-11 years
---------------------------------------------------
For Adults and Teens: Keyboard Encounters
4 Week course or Continued Education
---------------------------------------------------
Why group lessons?
♪ It's fun!
♪Confidence increases.
♪Not as intimidating as one-on-one classes.
---------------------------------------------------
Both courses will be taught by our esteemed instructor, Dawn Carr-Smith!
For more details about Group Classes, click here.
Please contact Dawn at dcarr@pianodistributors.com
To sign up, please call 618-624-7272 for Fairview Heights
or 636-532-1881 for Chesterfield
Come in our store today!
This February, we have the students of Bethany Nikstad playing Sunday the 1st, at 1:00 PM. Carol Hyde's students will be performing on the 21st of February at 1:00 PM. We look forward to hearing everyone play!
Think about entertaining family and friends this year with "LIVE" Concerts emanating from you living room on a
Yamaha Disklavier!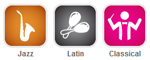 DisklavierTV provides access to a variety of streaming performances 24 hours a day, 7 days a week – performances that combine perfectly synchronized video, audio 
and the data that actually plays YOUR piano in YOUR living room!
Most of these performances have been captured live at venues and events from around the US, including the Newport Music Festival and the Monterey Jazz Festival. They cover a wide range of music genres, and we are continually adding to the selection from which you can choose.
In addition, we broadcast selected performances LIVE as they are actually happening, and we've had the privilege of offering the performances of such mega-stars as 
Sarah McLachlan, The Tierney Sutton Band featuring Christian Jacob and Elton John!
Imagine YOUR piano being played by a performer who may be thousands of miles away! There is truly nothing like it! You'll have to experience it to believe it!
You might want to experience the full excitement of DisklavierTV before deciding to subscribe. If you already have a 
Disklavier*
, 
set it up
 as described here and explore the free contents. * Mark IIXG Series or later
Our In-Store Music Teachers
Has an Extended BA in Music and Education K-12, Gifted/Special Education, Vocal, Instrumental and Piano. She has been teaching music and education for over 22 years, including band, orchestra, choir, piano and has been teaching Yamaha groups in Houston for 6 years. Now, working with Yamaha, she is teaching group lessons exclusively at Piano distributors.
Keyboard Encounters Kids  $35 annual registration $89 month- 1st book free
Each lesson meets for 1 hour a week. Chesterfield classes are at 5:00 on Wednesdays. Fairview Heights will have classes on Tuesdays.
Keyboard Encounters $35 annual registration $89 month- 1st book free
Each lesson meets for 1 hour a week. Chesterfield classes are at 6:00 on Wednesdays. Fairview Heights will have classes on Tuesdays.
Adult Mini Classes: 4 week mini class for $79 ( including book)
This class will teach basic piano skills while you learn to play some of todays popular pieces.
----------------------------------------------------------------
Please contact Dawn at dcarr@pianodistributors.com
To sign up, please call 618-624-7272 for Fairview Heights
or 636-532-1881 for Chesterfield
---
Rebecca received her Bachelor of Arts from McKendree University in Piano performance, and as well as being a piano performance major spent a great deal of class time in pedagogy (learning to teach). Rebecca accepts a wide variety of students from youth to seniors, beginners to advanced. Rebecca is still active performing and accompanying in churches and performance venues. She is a member of MTNA (Music Teachers National Association) and along with various recitals throughout the year gives her students an opportunity to get credit for AIM evaluations (Achievement in Music) and other local competitions. Whatever your piano playing goals whether beginner or advanced, young and adult, Rebecca can help strengthen your musical experience.
Contact Piano Distributors to speak with Rebecca at (618)-589-1900
---
Bethany Nikstad has been teaching private piano lessons since 2007.  She graduated magna cum laude from the University of Wisconsin - Eau Claire with degrees in Piano and German, and completed additional coursework in Piano Pedagogy and Piano Literature.  Bethany is a member of the National Federation of Music Clubs and her students are eligible to participate in their adjudicated festivals, such as the Parade of American Music, Sacred Music, World Music, and Gold Cup Festivals.  Additional performance opportunities include the Clavinova Festival and recitals at Piano Distributors.
Bethany's objectives with her students are to create a love of music and to expand their self-expression.  Instruction in improvisation, composition, music history, and technique are included in lessons.  She uses the "Music Mind Games" curriculum to teach music theory in an enjoyable way.  Her students play music in a variety of styles, including classical, jazz, and world music. She maintains a relaxed, playful environment in her studio.  Bethany welcomes students from age five to adult, beginning to advanced.
Contact Piano Distributors to speak with Bethany at (618)-589-1900