| | | |
| --- | --- | --- |
| | | |
At Piano Distributors, you'll find a large array of both new and pre-owned pianos, verticals and grands, along with Yamaha's latest technology represented in their Clavinova digital and Disklavier player piano areas. With the advancements in Yamaha's technology, you can entertain guests or relax after a hard day's work, with the touch of a finger, while your Disklavier showcases novelties such as "Gershwin playing Gershwin" or select from an assortment of your favorite libraries. If you are a singer as well as a pianist, come in for a demonstration of Clavinova's karaoke tunes and unique harmonies. With Yamaha, there's always something new, different and fun for everyone to enjoy!
In keeping with all Piano Distributors' locations, the Columbia Mid Missouri store offers teaching studios, a music education lab for group lessons, print music and a beautiful recital hall complete with two Conservatory-series grands. The hall seats 70-80 comfortably and is available to teachers for piano recitals, compliments of Piano Distributors, as well as for guest performances and workshops. Throughout the year, the store hosts a variety of events for the community, educators and technicians. Such events include Yamaha artists, music educators, technical support and local musician performances for education and enjoyment.
Please visit our website frequently for the scheduling of our special activities and sales events. There's always something happening at Piano Distributors!
If you missed Elton John's spectacular Million Dollar Piano revue at the Colosseum in Las Vegas, now's your chance to see it in Columbia. Elton John - The Million Dollar Piano—the movie—is debuting and will play for two days only—March 18 and March 26.
Click here to view the trailer and find a theater near you (Forum 8 for Columbia-Jefferson City area).
But before the movie hits the big screen, Piano Distributors, Columbia, is inviting area Elton fans to an exclusive free screening of a 20-minute, behind-the-scenes look at the making of the film and the piano, during a special wine and cheese event
Friday, March 14 at 7 p.m, and Saturday, March 22 at 2 p.m.
As a special bonus, fans will also be treated to a 35-minute segment from Yamaha's 125th Anniversary Dealer Concert—an event held at Disneyland's Hyperion Theater in Anaheim, California that featured Sir Elton performing on the Yamaha Disklavier with a 60-piece orchestra. Elton John has wowed audiences with his lavish Million Dollar Piano revue at Caesars Palace in Las Vegas, a persistent sellout event since its debut September 2011. This new movie brilliantly captures the spectacular concert experience and includes all of Elton's greatest hits, including "Rocket Man," "Tiny Dancer," "Saturday Night's Alright for Fighting," "I'm Still Standing," "Goodbye Yellow Brick Road," "Crocodile Rock," and "Your Song." The centerpiece of the performance is the show's namesake "Million Dollar Piano," a one-of-a-kind engineering marvel. The state-of-the-art instrument was a collaboration between Sir Elton and Yamaha Entertainment Group of America, and features more than 68 LED video screens that display mesmerizing imagery to complement each of the show's iconic songs.
Seating to this exclusive sneak peek at Piano Distributors is limited. Call now for reservations: (573) 445-5690
Piano Distributors is located at 1729 W Broadway, Suite 10B, Columbia, Mo.
(Photo: Alexander Crispin/Getty Images) Growing up, Lisha Lecari studied piano, listened non-stop to Aretha Franklin, the Beatles, and Bach, played guitar and attended rock concerts. "During my last year of high school I got hooked on studying music in depth, not just listening to it, discovered the thrill of counterpoint, and pretty much from then on knew I wanted to be a music teacher," she says. " "Five-year-olds have so many neurons flying in their brains that they need to use them. The benefit of music is that it makes things connect more easily. ""For the last 17 years Lecari has been the director of Music and the Brain, a music program she created that currently operates in 100 New York City public elementary schools, many of them in poor neighborhoods. Her curriculum is inspired on a 1990s study that connected the experience of early musical instruction to increased cognitive ability. That study from the Center for Neurobiology of Learning and Memory and the Department of Physics at UCLA found that music training causes long-term enhancement in the reasoning of preschool children. The Landfill Harmonic: These Kids Play Classical Music With Instruments Made From Trash "Music helps students to focus, to concentrate, to attend to a task, and to memorize things," Lecari says. "They learn pattern recognition, and it helps with math skills and literacy." Supported by various organizations from the Ford Foundation to the 42nd Street Fund, Music and the Brain installs 15 to 25 pianos and keyboards in labs in each participating school. It's one of the few programs with a piano curriculum aimed at K-2 students, though it can also be used effectively with beginners of any age. Lacari says she enjoys using it to teach parents to read music in 30 minutes. The extensive curriculum includes a repertoire of 156 songs, including examples of classical, filk, children's music, and a wide range of world music. Presented sequentially, the songs teach everything from ear training (for rhythm and pitch), to movement, analysis, geography, history, storytelling, games, singing, dancing, playing piano, improvisation, and performance. The program also includes three piano books, as well as teaching manuals, rhythm and keyboard cards, theory papers, poster-size copies of each song, and 43 CD recordings. Music teachers are given an initial training and attend an annual workshop. Instead of just teaching musical notes to children, Music and the Brain stimulates kids to think, act on that thinking, and become inspired to produce their own sounds. For example, take the William Tell Overture. In some programs, students may learn to read music and then play the song. With Music and the Brain, students find where notes are repeated, they discuss and describe the music and how it felt to them, and they create a story to go with the music.
Yamaha Disklavier!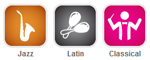 DisklavierTV provides access to a variety of streaming performances 24 hours a day, 7 days a week – performances that combine perfectly synchronized video, audio 
and the data that actually plays YOUR piano in YOUR living room!
Most of these performances have been captured live at venues and events from around the US, including the Newport Music Festival and the Monterey Jazz Festival. They cover a wide range of music genres, and we are continually adding to the selection from which you can choose.
In addition, we broadcast selected performances LIVE as they are actually happening, and we've had the privilege of offering the performances of such mega-stars as 
Sarah McLachlan, The Tierney Sutton Band featuring Christian Jacob and Elton John!
Imagine YOUR piano being played by a performer who may be thousands of miles away! There is truly nothing like it! You'll have to experience it to believe it!
You might want to experience the full excitement of DisklavierTV before deciding to subscribe. If you already have a 
Disklavier*
, 
set it up
 as described here and explore the free contents. * Mark IIXG Series or later