| | | |
| --- | --- | --- |
| | | |
At Piano Distributors, you'll find a large array of both new and pre-owned pianos, verticals and grands, along with Yamaha's latest technology represented in their Clavinova digital and Disklavier player piano areas. With the advancements in Yamaha's technology, you can entertain guests or relax after a hard day's work, with the touch of a finger, while your Disklavier showcases novelties such as "Gershwin playing Gershwin" or select from an assortment of your favorite libraries. If you are a singer as well as a pianist, come in for a demonstration of Clavinova's karaoke tunes and unique harmonies. With Yamaha, there's always something new, different and fun for everyone to enjoy!
In keeping with all Piano Distributors' locations, the Columbia Mid Missouri store offers teaching studios, a music education lab for group lessons, print music and a beautiful recital hall complete with two Conservatory-series grands. The hall seats 70-80 comfortably and is available to teachers for piano recitals, compliments of Piano Distributors, as well as for guest performances and workshops. Throughout the year, the store hosts a variety of events for the community, educators and technicians. Such events include Yamaha artists, music educators, technical support and local musician performances for education and enjoyment.
Please visit our website frequently for the scheduling of our special activities and sales events. There's always something happening at Piano Distributors!
Yamaha's Silent Piano Combines the Elegance of an Acoustic with the Convenience of a Digital Piano
Yamaha's truly amazing Silent Pianos let you harness the power of an acoustic piano, while also providing the flexibility and convenience of a digital. Silent Pianos are fully acoustic and feature some of the best sound that Yamaha has to offer. They also allow you to plug in headphones and switch over to digital, letting you practice your music in peace with access to great digital features such as recording capabilities, MIDI-equipped instruments, and music related apps. In addition, you still have the weight and feel of a real acoustic piano while playing in silent, digital mode. To find out more about Yamaha Silent Pianos,
click here. 
When Yamaha positioned the b Series as the 'piano to grow with,' they recognized that for many people this would be the first piano on their lifetime journey of making music. Often, as one's daily rigors of practice and perfection of skills progresses, that hidden dream of owning a grand piano begins to grow. What better way to keep your eye on the prize than to have the assurance that the investment of your practice, time and money will all contribute to that end goal.
Effective October 2014, all owners will be eligible to trade-up their b Series piano applying 100% of their purchase price against the purchase of a new Yamaha GC, CX or CF Series grand piano. Regardless of where they currently live, or may move in the future within the United States, their investment will be protected for up to 10 years at Piano Distributors.
Think about entertaining family and friends this year with "LIVE" Concerts emanating from you living room on a
Yamaha Disklavier!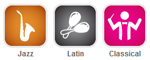 DisklavierTV provides access to a variety of streaming performances 24 hours a day, 7 days a week – performances that combine perfectly synchronized video, audio 
and the data that actually plays YOUR piano in YOUR living room!
Most of these performances have been captured live at venues and events from around the US, including the Newport Music Festival and the Monterey Jazz Festival. They cover a wide range of music genres, and we are continually adding to the selection from which you can choose.
In addition, we broadcast selected performances LIVE as they are actually happening, and we've had the privilege of offering the performances of such mega-stars as 
Sarah McLachlan, The Tierney Sutton Band featuring Christian Jacob and Elton John!
Imagine YOUR piano being played by a performer who may be thousands of miles away! There is truly nothing like it! You'll have to experience it to believe it!
You might want to experience the full excitement of DisklavierTV before deciding to subscribe. If you already have a 
Disklavier*
, 
set it up
 as described here and explore the free contents. * Mark IIXG Series or later