| | | |
| --- | --- | --- |
| | | |
At Piano Distributors, you'll find a large array of both new and pre-owned pianos, verticals and grands, along with Yamaha's latest technology represented in their Clavinova digital and Disklavier player piano areas. With the advancements in Yamaha's technology, you can entertain guests or relax after a hard day's work, with the touch of a finger, while your Disklavier showcases novelties such as "Gershwin playing Gershwin" or select from an assortment of your favorite libraries. If you are a singer as well as a pianist, come in for a demonstration of Clavinova's karaoke tunes and unique harmonies. With Yamaha, there's always something new, different and fun for everyone to enjoy!
In keeping with all Piano Distributors' locations, the Columbia Mid Missouri store offers teaching studios, a music education lab for group lessons, print music and a beautiful recital hall complete with two Conservatory-series grands. The hall seats 70-80 comfortably and is available to teachers for piano recitals, compliments of Piano Distributors, as well as for guest performances and workshops. Throughout the year, the store hosts a variety of events for the community, educators and technicians. Such events include Yamaha artists, music educators, technical support and local musician performances for education and enjoyment.
Please visit our website frequently for the scheduling of our special activities and sales events. There's always something happening at Piano Distributors!
Yamaha's state-of-the-art Hybrid Pianos Instrumental in Education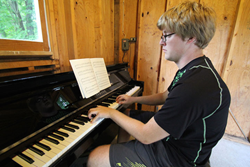 Check out
this
article about how Yamaha's Hybrid Pianos are making a positive impact on education in the classroom! Yamaha's Hybrid Pianos are equipped with an authentic piano hammer action but produce sound digitally. This allows the player to experience the exact same touch of a Yamaha acoustic piano and still enjoy the top-quality signature Yamaha sound without needing to worry about environmental conditions affecting the piano.
Boston University Tanglewood Institute Partners with Yamaha, Falcetti Music This Summer to Boost Learning in Unique Ways: http://www.prweb.com/releases/2015/08/prweb12912045.htm
You can try a Yamaha Hybrid Piano in our store! Visit us at 1729 W. Broadway, Suite 10B in Columbia, MO.
Yamaha's Silent Piano Combines the Elegance of an Acoustic with the Convenience of a Digital Piano
Yamaha's truly amazing Silent Pianos let you harness the power of an acoustic piano, while also providing the flexibility and convenience of a digital. Silent Pianos are fully acoustic and feature some of the best sound that Yamaha has to offer. They also allow you to plug in headphones and switch over to digital, letting you practice your music in peace with access to great digital features such as recording capabilities, MIDI-equipped instruments, and music related apps. In addition, you still have the weight and feel of a real acoustic piano while playing in silent, digital mode. To find out more about Yamaha Silent Pianos,
click here.