Come-In and Trade-Up Clavinova Rebate
In addition to the trade-in value for your current CLP or CVP Series Clavinova, Yamaha is offering additional rebates up to $400 when you step up to any finish of, CVP-605 or CVP-609 models. With full-color touch screen displays, wireless connectivity to iOS devices and Yamaha's latest grand piano-emulating technologies, it's never been easier to learn, play and share music as it is with the new CVP-600 Series. Offer ends January 31, 2014. 
Click here for official terms and conditions >
Rebate Values
CVP-601: $200.00 CVP-605: $300.00 CVP-609: $400.00
Note: Rebate values are delivered in the form of gift cards.
Piano Distributors welcomes you to a very special evening of your holiday favorites.
In Concert - Michael Butterworth
Michael currently lives in Columbia, Missouri with his wife and five children.
​
Michael began playing the piano at age four. As a child he was fascinated by the piano and was captivated by watching people play. Growing up, Michael spent many hours a day playing different kinds of music on the piano. He loves music and loves bringing enjoyment to others by sharing his music.
We are very fortunate to have Michael performing songs from his "Reflections of Christmas" CD.
Sunday, December 15th, 6:30 PM
Piano Distributors, Columbia's Recital Hall
Seating is Limited!
Please feel free to call (573) 415-0956 for any additional information.
We look forward to seeing you.
| | | |
| --- | --- | --- |
| | | |
At Piano Distributors, you'll find a large array of both new and pre-owned pianos, verticals and grands, along with Yamaha's latest technology represented in their Clavinova digital and Disklavier player piano areas. With the advancements in Yamaha's technology, you can entertain guests or relax after a hard day's work, with the touch of a finger, while your Disklavier showcases novelties such as "Gershwin playing Gershwin" or select from an assortment of your favorite libraries. If you are a singer as well as a pianist, come in for a demonstration of Clavinova's karaoke tunes and unique harmonies. With Yamaha, there's always something new, different and fun for everyone to enjoy!
In keeping with all Piano Distributors' locations, the Columbia store offers teaching studios, a music education lab for group lessons, print music and a beautiful recital hall complete with two Conservatory-series grands. The hall seats 70-80 comfortably and is available to teachers for piano recitals, compliments of Piano Distributors, as well as for guest performances and workshops. Throughout the year, the store hosts a variety of events for the community, educators and technicians. Such events include Yamaha artists, music educators, technical support and local musician performances for education and enjoyment.
Please visit our website frequently for the scheduling of our special activities and sales events. There's always something happening at Piano Distributors!
Experience the Yamaha Hybrid Pianos
Now at Piano Distributors!
Why Hybrid?
The benefits of digital pianos are well known: no tuning, volume control, multiple sounds, etc. However, a major point of concern has always been the "feel" of the instrument. Yamaha has combined a rich history of acoustic piano manufacturing with experience in digital engineering to provide a playing experience that even the most critical of piano purists can enjoy.
What is a Hybrid?
The "Hybrid" piano is the result of Yamaha's expertise in technology and innovation. An instrument that bridges the gap between the digital and acoustic piano, creating a traditional playing experience with modern benefits.
Why should I buy one?
Yamaha Hybrid Pianos provide the player with all the advantages of digital technology and feature a real piano action. No other instrument captures the feel and nuance of an acoustic piano like a Yamaha Hybrid Piano, because it has a real mechanical piano action.
Why is it better than a standard piano?
Yamaha Hybrid Pianos boast a number features that can't be found on acoustic pianos. These features include headphone connectivity, metronome, song recording and playback, MIDI connectivity and a sound set that requires no tuning.
Yamaha Hybrid Pianos
Yamaha Disklavier!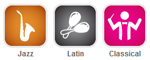 DisklavierTV provides access to a variety of streaming performances 24 hours a day, 7 days a week – performances that combine perfectly synchronized video, audio 
and the data that actually plays YOUR piano in YOUR living room!
Most of these performances have been captured live at venues and events from around the US, including the Newport Music Festival and the Monterey Jazz Festival. They cover a wide range of music genres, and we are continually adding to the selection from which you can choose.
In addition, we broadcast selected performances LIVE as they are actually happening, and we've had the privilege of offering the performances of such mega-stars as 
Sarah McLachlan, The Tierney Sutton Band featuring Christian Jacob and Elton John!
Imagine YOUR piano being played by a performer who may be thousands of miles away! There is truly nothing like it! You'll have to experience it to believe it!
You might want to experience the full excitement of DisklavierTV before deciding to subscribe. If you already have a 
Disklavier*
, 
set it up
 as described here and explore the free contents. * Mark IIXG Series or later
Tom Stone from Columbia, Missouri, recently bought his daughters a CLP430. He came into the store to get instructions from our master teacher, Steve Trawford, on the many great details of the CLP430. Before the lesson began, however, Tom said he needed to tell us how excited and happy he was to have bought this piano. To quote Tom: This is "
the best investment I have made in my children's musical future!"
We appreciate our customers, and are happy to be able to enhance their lives with our wonderful pianos.