Join us for 4 weeks, and play your favorite songs this Christmas!
It's fun, relaxing and merry good for your health!
New sessions forming soon in Chesterfield and Fairview Heights.
Only $29 including book!
Join us for 4 fun and creative one hour sessions!
Call today for more information!
Fairview Heights 618-624-7272
Chesterfield 636-532-1881
Columbia 573-445-5690
The Chesterfield store is located in the beautiful St. Louis suburb of Chesterfield, Mo. Just a minute from the intersection of Highway 40 and Olive.
Opening in July of 2006, the Chesterfield location is also one of the largest and most beautiful stores of all the Piano Distributors locations. Formerly a fine quality furniture store, there are over 200 pianos displayed in twelve separate rooms.
In a short period of time, this Chesterfield location has become a musical hub for the surrounding region. A fine quality 100 seat recital hall is now available for local area piano teachers and their students.
This store is truly a wonderful place to buy a piano, and you will enjoy the welcoming staff. Come see us.
When Yamaha positioned the b Series as the 'piano to grow with,' they recognized that for many people this would be the first piano on their lifetime journey of making music. Often, as one's daily rigors of practice and perfection of skills progresses, that hidden dream of owning a grand piano begins to grow. What better way to keep your eye on the prize than to have the assurance that the investment of your practice, time and money will all contribute to that end goal.
Effective October 2014, all owners will be eligible to trade-up their b Series piano applying 100% of their purchase price against the purchase of a new Yamaha GC, CX or CF Series grand piano. Regardless of where they currently live, or may move in the future within the United States, their investment will be protected for up to 10 years at Piano Distributors.
Please join us for the 2014 Yamaha Clavinova Festival. You and your students are invited to participate in the most musical fun ever! It's time for the YAMAHA Clavinova Festival and a student is going to WIN a brand new Yamaha digital piano too! The main focus of this event is to HAVE FUN! It's a day of good, wholesome musical piano fun on the Yamaha CVP Series Clavinova.
The 2014 Clavinova Festival will be held in Chesterfield on November 15 and 16!
What is a Clavinova Festival ?
The Yamaha Clavinova Festival is an opportunity for kids to have fun performing while playing on Yamaha's CVP Series digital piano called a Clavinova.
There are only 2 rules:
♦Students must use two features on the Clavinova
♦Students must have fun!
Visit www.clavinovafestival.com for more information.
Clavinova Festival 
Saturday and Sunday, November 15 and 16
Register your kids soon and let the fun begin!
Call (636) 532 -1881
Location: Piano Distributors
5464 Olive Boulevard
Chesterfield, MO 
Yamaha Disklavier!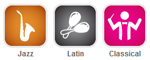 DisklavierTV provides access to a variety of streaming performances 24 hours a day, 7 days a week – performances that combine perfectly synchronized video, audio 
and the data that actually plays YOUR piano in YOUR living room!
Most of these performances have been captured live at venues and events from around the US, including the Newport Music Festival and the Monterey Jazz Festival. They cover a wide range of music genres, and we are continually adding to the selection from which you can choose.
In addition, we broadcast selected performances LIVE as they are actually happening, and we've had the privilege of offering the performances of such mega-stars as 
Sarah McLachlan, The Tierney Sutton Band featuring Christian Jacob and Elton John!
Imagine YOUR piano being played by a performer who may be thousands of miles away! There is truly nothing like it! You'll have to experience it to believe it!
You might want to experience the full excitement of DisklavierTV before deciding to subscribe. If you already have a 
Disklavier*
, 
set it up
 as described here and explore the free contents. * Mark IIXG Series or later
Our In-Store Music Teachers
For Children: Tuesday  Keyboard Encounters Kids – 5-11yr   5:00
This course is group based and will have a registration fee of $35.
---------------------------------------------------
For Adults and Teens: 4 Week Play By Christmas course   Oct – Dec  6:00
Since the adult classes are short term, they will not have a registration fee.
---------------------------------------------------
Why group lessons?
♪Not as intimidating as one-on-one classes.
♪Confidence increases.The poise they gain goes with them into other settings.
♪ It's fun! Students enjoy the interaction with other students and learn from each other.
♪Group learning helps to establish a strong sense of pulse  A good sense of rhythm is essential to musical success.
♪ Accountability. The group pace requires that students develop good practice routines. Progress is usually more consistent in a group setting.
---------------------------------------------------
Both courses will be taught by our esteemed instructor, Dawn Carr-Smith!
Please contact Dawn at dcarr@pianodistributors.com
To sign up, please call 618-624-7272 for Fairview Heights
or 636-532-1881 for Chesterfield
Come in our store today!
---
Ruth has a Bachelors degree in Music Therapy. She has been teaching for 25 years with a flexible teaching style. Experienced with all genres of music. Has experience playing for musicals, choirs, as well as soloists.
Ruth can be reached at (636)-532-1881
---
Karen Stevenson is currently Organist at Bonhomme Presbyterian Church in Chesterfield, the Chancel Choir accompanist, and an independent piano and organ teacher.
She began studying piano at age 3 with Hazel Miller Miester in St. Louis, accompanying choirs and operettas throughout elementary school, and playing the organ for church services at the age of 12.
As a teenager she was the solo pianist with the Afton Summer Symphony performing "Rhapsody in Blue" by George Gershwin.  She attended the University of Missouri at Kansas City Conservatory of Music as a piano performance major in the mid 1970's and graduated from Webster University with a degree in Business Management.
Karen has performed as a piano and organ soloist, accompanist, ensemble musician, director, and choral singer. She enjoys serving as a pianist for community theatre and choral groups.  Most recently she performed as the pianist for conductor and composer, John Leavitt, in his presentation of "Symphony of Songs" at Carnegie Hall, in 2010.
Karen began her teaching career many years ago with Townsend Music School but has been an independent piano and organ teacher for the past 10 years.  She has a select group of students that excel under her classic approach to piano technique and musicianship.
Please call our store to reach Karen. 636-532-1881