The Chesterfield store is located in the beautiful St. Louis suburb of Chesterfield, Mo. Just a minute from the intersection of Highway 40 and Olive.
Opening in July of 2006, the Chesterfield location is also one of the largest and most beautiful stores of all the Piano Distributors locations. Formerly a fine quality furniture store, there are over 200 pianos displayed in twelve separate rooms.
In a short period of time, this Chesterfield location has become a musical hub for the surrounding region. A fine quality 100 seat recital hall is now available for local area piano teachers and their students.
This store is truly a wonderful place to buy a piano, and you will enjoy the welcoming staff. Come see us.
If you missed
Elton John's spectacular Million Dollar Piano revue at the Colosseum in Las Vegas
, now's your chance to see it in Fairview Heights. Elton John-The Million Dollar Piano—the movie—is debuting and will play for two days only—March 18 and March 26. 
Click here
 to view the trailer and find a theater near you. But before the movie hits the big screen,  Piano Distributors Chesterfield is inviting area Elton fans to an exclusive free screening of a 20-minute, behind-the-scenes look at the making of the film and the piano, during a special wine and cheese event
Saturday, March 15 at 2 p.m and Wednesday, March 19 at 5:30 p.m.
As a special bonus, fans will also be treated to a 35-minute segment from Yamaha's 125th Anniversary Dealer Concert—an event held at Disneyland's Hyperion Theater in Anaheim, California that featured Sir Elton performing on the Yamaha Disklavier with a 60-piece orchestra. Elton John has wowed audiences with his lavish Million Dollar Piano revue at Caesars Palace in Las Vegas, a persistent sellout event since its debut September 2011. This new movie brilliantly captures the spectacular concert experience and includes all of Elton's greatest hits, including "Rocket Man," "Tiny Dancer," "Saturday Night's Alright for Fighting," "I'm Still Standing," "Goodbye Yellow Brick Road," "Crocodile Rock," and "Your Song." The centerpiece of the performance is the show's namesake "Million Dollar Piano," a one-of-a-kind engineering marvel. The state-of-the-art instrument was a collaboration between Sir Elton and Yamaha Entertainment Group of America, and features more than 68 LED video screens that display mesmerizing imagery to complement each of the show's iconic songs.
Seating to this exclusive sneak peek at Piano Distributors is limited. Call now for reservations: (636) 238-3865.
Piano Distributors is located at 
15464 Olive Blvd., Chesterfield.
Have you always wanted to play the piano?
Join us for just 60 minutes per week
Read more about these classes!
Learn to play your favorite songs right away Enroll Now - New Groups starting soon!
Questions or are you ready to sign up?
Call 636-238-3865 and ask for Steve
Learn the Fun, Fast and Stress Free Way!
Yamaha Disklavier!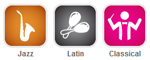 DisklavierTV provides access to a variety of streaming performances 24 hours a day, 7 days a week – performances that combine perfectly synchronized video, audio 
and the data that actually plays YOUR piano in YOUR living room!
Most of these performances have been captured live at venues and events from around the US, including the Newport Music Festival and the Monterey Jazz Festival. They cover a wide range of music genres, and we are continually adding to the selection from which you can choose.
In addition, we broadcast selected performances LIVE as they are actually happening, and we've had the privilege of offering the performances of such mega-stars as 
Sarah McLachlan, The Tierney Sutton Band featuring Christian Jacob and Elton John!
Imagine YOUR piano being played by a performer who may be thousands of miles away! There is truly nothing like it! You'll have to experience it to believe it!
You might want to experience the full excitement of DisklavierTV before deciding to subscribe. If you already have a 
Disklavier*
, 
set it up
 as described here and explore the free contents. * Mark IIXG Series or later
Our In-Store Music Teachers
Ruth has a Bachelors degree in Music Therapy. She has been teaching for 25 years with a flexible teaching style. Experienced with all genres of music. Has experience playing for musicals, choirs, as well as soloists.
---
Karen Stevenson is currently Organist at Bonhomme Presbyterian Church in Chesterfield, the Chancel Choir accompanist, and an independent piano and organ teacher.
She began studying piano at age 3 with Hazel Miller Miester in St. Louis, accompanying choirs and operettas throughout elementary school, and playing the organ for church services at the age of 12.
As a teenager she was the solo pianist with the Afton Summer Symphony performing "Rhapsody in Blue" by George Gershwin.  She attended the University of Missouri at Kansas City Conservatory of Music as a piano performance major in the mid 1970's and graduated from Webster University with a degree in Business Management.
Karen has performed as a piano and organ soloist, accompanist, ensemble musician, director, and choral singer. She enjoys serving as a pianist for community theatre and choral groups.  Most recently she performed as the pianist for conductor and composer, John Leavitt, in his presentation of "Symphony of Songs" at Carnegie Hall, in 2010.
Karen began her teaching career many years ago with Townsend Music School but has been an independent piano and organ teacher for the past 10 years.  She has a select group of students that excel under her classic approach to piano technique and musicianship.
Please call our store to reach Karen. 636-532-1881